This article is more than 1 year old
Android voice assistant shootout
Battle of the Siri substitutes
Android App of the Week Special In the absence of anything shiny, the hoi polloi and the media focused on Siri as the The Big Idea at the iPhone 4S launch. Android has supported basic voice commands for ages, but there are now a number of Siri-wannabes in the Market. But are they of any use other than as a bit of mild amusement?
That depends on the use you put them to. Asking your phone "how many inches in a kilometre" or "what's the capital of Paraguay" verbally is a darned sight easier than searching for the information in the conventional manner.
But should you trust these systems enough to schedule dinner with Alex for 10pm on 1 December and not up end up with lunch with Alice on 10 December 10 at 1? If you have to double-check every entry, it would have been faster to tap it in with your finger.
Edwin

Where Edwin comes up trumps is in its use - like Siri - of Wolfram Alpha, which is without doubt the place to go if you want to ask complicated or technical questions.
Edwin also gets the best from Google's voice recognition system - it was noticeably better even than Siri when it came to interpreting my questions about Newton-metre to foot-pound torque conversions.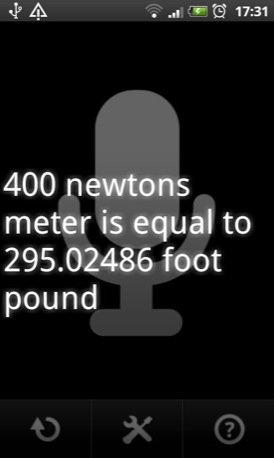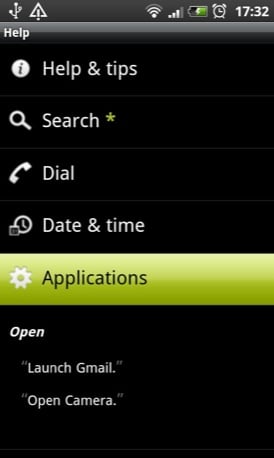 The on-screen graphics are simplicity themselves: nothing more than a big microphone, and shortcuts to repeat the last thing Edwin said, to open the minimal settings menu and to access the user guide. There's also a handy option to have anything Edwin says appear briefly on the screen in large, friendly letters.
Oddly enough, the one thing I couldn't get Edwin to do was tell me what the weather was going to be doing either in my location or anywhere else on the face of the planet.


Reg Rating
75%
Price
Free
Size
1.2MB
Apps2SD
Yes
More Info
Iris

A shiny new app that made the news for because it's name is Siri spelled backwards and for apparently being coded in a mere eight hours.
The tiny, 900KB Iris pulls its information from True Knowledge which seems a decent source of what's what and who's who. Ask Iris a question about a thing, person or place and as well as a brief answer it also rustles up an illustrative image.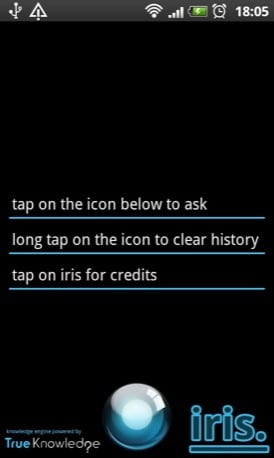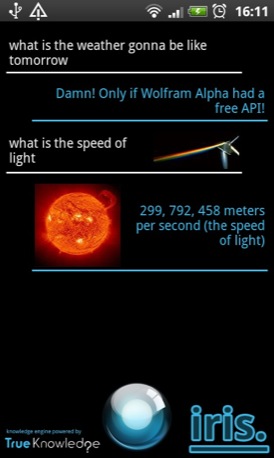 Iris scored brownie points by being the only app that correctly understood the subtleties of the question, "Do you know the way to San José?" and even found me a copy of the 7in single sleeve.
When I asked Siri the same question, it told me it could only look for maps and locations in the US. Yes, I know Siri can't do locations outside the States, but I did expect it to figure out the Bacharach and David undertone.
Still very much an alpha release, Iris is developing at a breakneck speed. It underwent a complete graphical redesign only last week – so I expect it to improve over the coming months.


Reg Rating
75%
Price
Free
Size
900KB
Apps2SD
No
More Info