This article is more than 1 year old
Beeb measures Blighty in doormats
Auntie's improbable units dept strikes again
The BBC's improbable units department was in fine form last week when it decided to quantify the land area of the United Kingdom in doormats.
In this illuminating piece on just how may noughts a trillion has, Auntie notes that Blighty's 244,820 sq km area is the equivalent of 1,000,000,000,000 doormats, based on a standard foot-wiping surface of 0.24 sq m.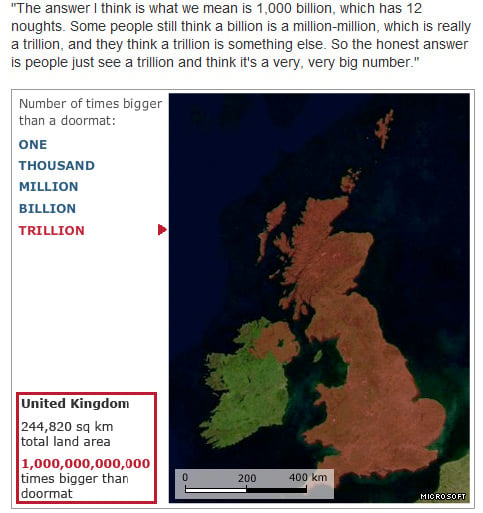 Good stuff. The corporation also usefully explains that Manchester stretches to one billion doormats, while anyone with a "large house and garden" can comfortably roll out 1,000 doormats.
The Beeb's previous efforts to explain big stuff in simple terms include dumping the 2010 Gulf oil spill on Middlesbrough - a very agreeable idea courtesy of BBC Dimensions. ®
Bootnote
Ta very much to all those readers who alerted us to the BBC's doormat.