A group of six men who have spent the past 17 months sealed up inside a spaceship simulator near Moscow - in order to investigate the problems which might arise on a mission to Mars - are about to regain their liberty.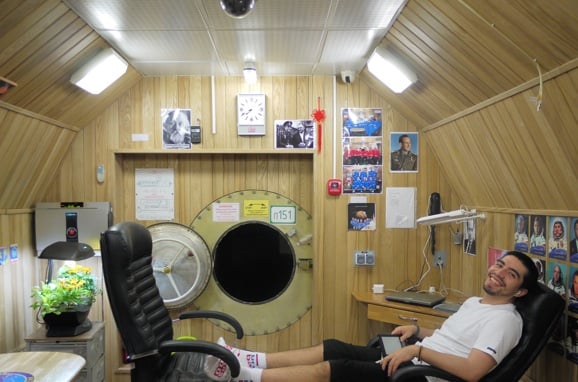 Life aboard the wooden space ark.
The denizens of the Mars-vessel complex, which features wooden interiors rather different from those seen on present-day spacecraft, will transfer into their "landing capsule" for a simulated setdown on Earth on Friday 4 November. They will have not left the "ship" for 520 days at that point, apart from a few brief spacesuited "Mars walks" in a suitably ochre-tinted indoor sandpit to simulate a landing on the red planet.
Scientists working on the project are already overjoyed with the way things have worked out.
"The answer is yes", says Patrik Sundblad, human life sciences specialist at the European Space Agency (ESA).
"Yes, the crew can survive the inevitable isolation that is for a mission to Mars and back. Psychologically, we can do it."
The simulation has been a realistic as possible given a relatively limited budget - for instance the pretend 'nauts have not been subject to prolonged low- or zero-gravity conditions. In particular, communications form inside to outside the "ship" have been delayed as they would be to and from a mission far out in deep space, to reflect the time radio waves would take to travel between the ship and Earth. This delay, with landing approaching, is now only tiny, easing the pressure on the men inside.
"The crew has worked individually and as team very well, and the cooperation in the outside world has been outstanding," observes Sundblad.
"Russia, China and Europe have maintained the integrity of the unique experiment.
"This is a very important lesson for any future mission to Mars: it is not only about the spacecraft and its crew, but also about close cooperation on Earth between all the teams and the international space agencies."
There is no such close cooperation in hand on a real manned Mars mission, though both Russia and China have stated it as a vague long-term aspiration. US plans are a little firmer, with a massive heavy-lift rocket of the sort that would be needed on NASA's drawing boards and work underway on the Orion 'deep space' craft. However there is widespread doubt as to whether NASA can actually afford the Space Launch System - let alone SLS and Orion and Mars landers, service modules etc. Even if it can, no mission to the red planet seems likely until well into the 2030s at the moment. Various problems such as protection for the crew from radiation storms remain largely unsolved as yet.
There's more on the imminent end of the Mars 500 simulation from the ESA here. ®