OpenBSD 5.0 reveals MAD-themed release
What hath Alfred E. Neuman wrought?
---
The OpenBSD Foundation has released version 5.0 of the popular operating system and has made it available for download – or for purchase via CD if you want the bonus party pack.
The latest release includes better memory-control systems across a variety of architectures, new drivers for SCSI and 10GB Ethernet systems, and improved support for the Wake LAN toolset. The math library has been fleshed out and debugged, while randomization speed and quality has been beefed up for better security.
"We are pleased to announce the official release of OpenBSD 5.0," the organization said in a statement. "This is our 30th release on CD-ROM (and 31st via FTP). We remain proud of OpenBSD's record of more than ten years with only two remote holes in the default install."
This latest build comes with Gnome 2.32.2, KDE 3.5.10, Xfce 4.8.0, MySQL 5.1.54 and version five of Mozilla's Thunderbird email client and Firefox browser. LibreOffice 3.4.1.3 is bundled for office productivity, and the build supports Emacs 2.3, PHP 5.3.6, Python 2.7.1 and Ruby 1.9.2.200.
In keeping with tradition, the build comes with its own theme and song. The theme is taken from the American classic MAD magazine, transposing its mascot Alfred E. Neuman onto OpenBSD's pufferfish logo. The OpenBSD Foundation also uses Neuman's famous phrase "What, me worry?" as the title for the build song.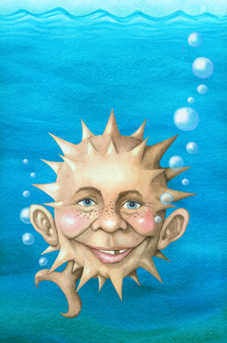 Alfred E Neuman in pufferfish mating shock!
The code is available for download, but is also available on a three-CD set for $50. The CD version comes with an audio version of the latest BSD song, and a set of stickers with the new logo – which are sadly unavailable to download users due to what the group describe as a "the Sticker Transfer Protocol." ®