Assange brings down British justice system
Six-fingered WikiLeaker-in-chief sticks it to THE MAN
The Judiciary.gov.uk website went spectacularly titsup this morning, minutes after WikiLeaks chief Julian Assange lost his appeal against being extradited to Sweden.
The interwebs hive brain quickly started spreading the rumour that hacktivist group Anonymous was responsible for the website's little lie-down.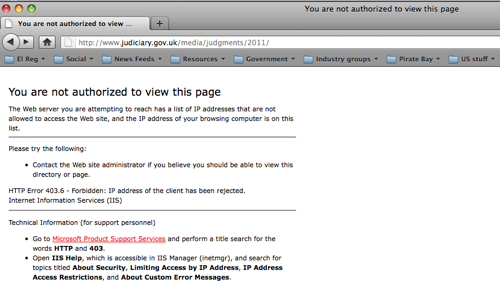 However, it was much simpler than that.
A spokeswoman at the Office of the Lord Chief Justice told The Register that Judiciary.gov.uk simply couldn't cope with the level of online interest in the Assange case.
"We've never seen anything like it," she said.
When asked if Anonymous had hacked the site, the spokeswoman explained that the sysadmins at the MoJ were blaming unprecedented volume of traffic rather than anything more sinister.
The website, at time of writing, is still struggling to cope demonstrating that Assange mania still exists online, even if the six-fingered Australian is these days lacking any celebrity sparkle. ®