UK biz: Fax us and explain what this cloud thing is
Small firms stuck with crap tech, unware of data laws
---
Forty per cent of workers in Britain's small businesses still use fax machines on a daily basis, a report into the IT habits of small and medium enterprises (SMEs) has found. The paper was published today by Intel.
While the fax machines are running full tilt, only 16.2 per cent of IT users in small business used a smartphone for work, and just 1.4 per cent used a tablet. The 3,000 small UK businesses interviewed for the survey blamed a lack of human and financial resources for their outdated IT practices.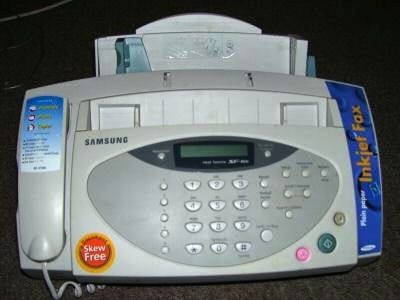 Quick – fax the boss!
The findings show a nation stuck in the digital Dark Ages, workers bent over fax machines while tapping phone numbers into a candy bar-like feature phone. It's a worrying picture for anyone hoping that Britain's small business sector will pull us out of the recession.
The report is also upsetting for anyone attempting to sell computers into the UK small business sector: half of computers sold to UK enterprise are sold to businesses with fewer than 500 employees, but it doesn't look like these guys will have much cash to throw around on new gear.
IT budgets tight
Just over a third – 36 per cent – of SMEs interviewed by Intel plan to buy no hardware next year: no laptops, desktops, tablets or smartphones. "Investment in IT has fallen way down their list of priorities," Graham Palmer, managing director of UK Intel told The Reg.
The tightening of purse strings is also throttling other areas of the IT budget: with businesses cutting back on virus protection spend and paying less attention to legal issues like data protection.
Leaky data will cause problems
Intel foresee the legal stuff as a big future problem for small biz. The common practice of letting employees use their own devices may bring some benefits but opens up a Pandora's box of data protection problems:
"A key concern is the mixing of business data and personal data on the same device. There are programmes to handle that, but 36 per cent of IT managers didn't fully appreciate their legal responsibility," Palmer said.
In total, only 52.2 per cent of IT decision-makers in small and medium businesses believed that they fully complied with security and privacy laws for the devices and technology they used.
"It's likely that the so-called consumerisation of IT is going to continue, and IT decision makers need to recognise that this, and the increasingly mobile workforce, will have huge data security implications" Intel says in its report.
No one knows about cloud services
As for the much-hyped arrival of cloud services, turns out lots of people are using the cloud – but just don't realise it. For example, half of businesses using Google Docs claimed they didn't use any cloud services. Nearly half (48.7 per cent) of IT users in small business and nearly a quarter (23.3 per cent) of IT decision makers said they weren't sure what cloud computing is.
Intel think they need to sell their tech better to their business customers: "We've always courted the SME market," says Palmer of Intel. "The research is more a litmus test, but of course we will use this to talk to our reseller community; we should continue to use it to talk to and educate the SMEs we're selling to."
Recent research by Canadian boffins into the use of tech in small business would back that up.
We have to translate this into a business issue. We have to move from talking about tech to talking about business problems and there is a real business need for these solutions.
®