This article is more than 1 year old
HTC Titan WinPho 7.5 smartphone
Mango at large
The Entertainer
Battery life on smartphones varies greatly – indeed, some Android handsets will flounder in much less than a day. Since so much of the battery life is down to the screen, you might imagine that this phone will give up by lunchtime.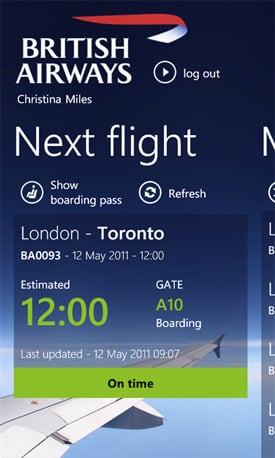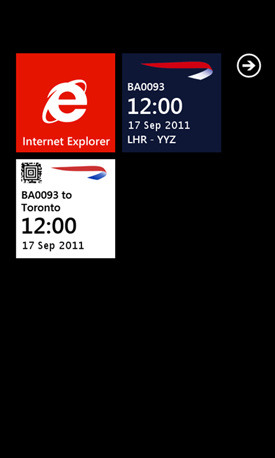 Aspects of the BA app include pinning flight particulars to the homescreen
In fact, Windows Phone 7 has always outgunned Android for between-charge life and the latest version WinPho 7.5 (Mango) includes battery-saving settings. These enhancements allow you to manage a day without problems, often a day and a half. For peace of mind, daily charging is still the way to go, but you can leave your charger at home.
HTC has a gift for producing phones that maintain a robust signal and the Titan continues this tradition. Apparently to aid the signal transmission, there are tiny pairs of pinholes at the top and bottom of the phone's largely metallic back. Reception aside, the audible call quality was good, too.
You can read about the joys of Windows Phone 7 and Mango (v7.5) in various reviews on Reg Hardware so I'll just say that it's an intuitive and responsive OS, which shows plenty of potential. Sure, the apps aren't as numerous as with Apple's iOS but from a taste of what's out there at the moment, they look tremendous.
If you're after functional rather than eye candy, then the British Airways app gives a taste of WinPho 7.5's capabilities. Besides flight info, the app takes advantage of the phone's screen shortcuts function, so you can even have your boarding pass QR code pinned to the homescreen. Not much good if you don't fly BA, but nevertheless, the WinPho 7.5 works well and together with the HTC hardware delivers an impressive user experience.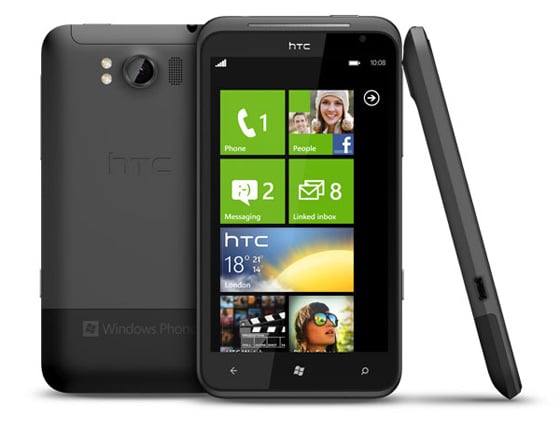 Entertaining option
Yet the catch for the Titan and its entertainment raison d'être are the restrictions of the platform. Its supersize screen has to follow the 480 x 800 spec and, likewise, there's no storage expansion although 16GB should satisfy most. Also, HDMI out would be a boon on this handset too but appears to be another spec shortcoming, for now, at least.
Verdict
Although it's not as heavy or as thick as a big phone could be, you're never going to lose the HTC Titan in a pocket. Still, it's handsome, speedy and shows off the capabilities Windows Phone 7 OS in its current Mango flavour. Indeed, it appears that the HTC Titan is more of a statement phone, made for those who like to go large. ®
More Smartphone Reviews

HTC
Radar
Apple
iPhone 4S
Ten… Androids
to outshine
the iPhone 4S
Sony Ericsson
Xperia Arc
RIM
BlackBerry
Torch 9810

HTC Titan WinPho 7.5 smartphone
A Windows Phone 7.5 'Mango' smartphone with a huge 4.7in touchscreen for mobile entertainment on the move.