Google and co join gov's identity marketplace
Midata: A lucrative ID trade-off
---
Google is among 26 companies that have signed up to the government's latest effort to create a British business sector out of the handling of private data and an individual's online identity.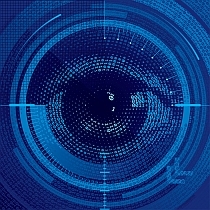 The logo depicts the comforting eye of
Sauron midata...
UK.gov prefers to cast this agenda as part of its push to make the government and private companies more transparent about the information they hold on taxpayers and consumers.
The Business, Innovation and Skills department launched "midata", which is based on a voluntary partnership, today and said that consumers in Blighty would soon be able to access information held by the likes of British Gas, MasterCard and Google via online "personal data inventories" (PDIs).
According to BIS, companies that sign up to midata would benefit from more information being shared by consumers.
"As customers get used to updating and managing preferences and permissions, they are more likely to opt in rather than out of marketing communications," said the department in a document outlining the "potential benefits" to business.
BIS claimed that consumers would be "empowered" by such data sharing online.
But the agenda also feeds heavily into the Cabinet Office's plan to offload identity-handling onto the private sector.
"Under the government's proposed ID assurance scheme, a market for providers of identity services will be created. Individuals will be able to take these 'tokens of identity' with them from organisation to organisation," said BIS.
"The same approach can be extended to other tokens of verification, for example that this person 'has this credit score', or 'is entitled to these benefits'. These tokens can reduce risk and streamline sales processes."
Unsurprisingly, the government – anxious not to see a backlash from privacy advocates accusing it of mounting its own infant ID card system, sans the card – reasserted that it won't have a huge data repository in Whitehall that holds all of this information.
"Midata will not create any central databases or data portals," said BIS.
"Any data that companies pass back to customers will passed to individuals and no one else. The government won't see or have access to any of the data that is released. Releasing data back to individuals is a matter for companies and their customers alone."
It will make the first PDIs available in 2012.
"Consumer data is an incredibly valuable commodity and the amount of data kept and used is set to grow as people increasingly use online and digital services," said watchdog Consumer Focus.
"This data should not just benefit the businesses and services who collect it. Midata is an important initiative that could help people retrieve and reuse their own personal data for their own benefit.
'"But there is also the risk of serious consumer detriment if data is lost, leaked, misused or stolen. Protecting consumer data will be the pass or fail criteria for this initiative."
Meanwhile, Information Commissioner Christopher Graham said he hoped the new scheme would operate within the current law.
"It goes without saying that privacy and data security principles must continue to be upheld and I'm pleased that consumer data security has been a key strand from the outset," he said.
"I look forward to continuing to work with the government and businesses to ensure the scheme complies with the Data Protection Act."
As we revealed yesterday, the government's £10m-and-counting ID assurance scheme will almost certainly be subjected to primary legislation. But it remains to be seen whether such a new law, if passed in Parliament, would include provisions for the Midata marketplace now in play. ®