The Bill & Melinda Gates Foundation has awarded a $1m grant to an astrophysicist developing a laser-based solution to a decidedly terrestrial problem: malaria-spreading mosquitoes.
"I wanted to apply my astrophysics, optics, laser expertise towards some humanitarian goal that can help people," says Columbia University associate professor Szabolcs Márka in video outlining his laser "light wall".
"I had this idea that maybe that optics and light can repell or affect insects, and maybe that can be used to eradicate malaria."
Márka – whose day job involves investigating what happens when two black holes merge – had the bright idea several years back that light could be used to confuse mosquitoes by interfering with their sensory systems.
Working with his wife ZsuZsa Márka and colleague Imre Bartos, he refined his approach to creating a laser-produced barrier – a light wall.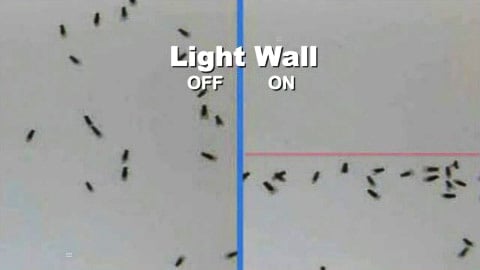 Exactly how the 'light wall' works isn't known – but mosquitoes won't cross it
"We stumbled on this," Márka said in a Columbia Technology Ventures discussion of his work. "If you have an invisible wall of light, how will mosquitoes and fruit flies react? They do walk or fly into it. Then they turn back. They don't want to cross it."
The Gates Foundation awarded $100,000 to Márka and his team in 2008. The light wall work apparently has impressed the Foundation mightily, as it has now added another $1m to support the work, making the mosquito repellant idea only one of five follow-up grants in in the Foundation's Grand Challenges program.
The eradication of malaria is a primary goal of the Gates Foundation. As their website notes, nearly one million people a year die of the disease – 90 per cent of them in Africa – and 85 per cent of the victims are children under five years of age.
Márka's method shows promise – a sufficiently large array, for example, could cost-effectively protect a large area, or a conical light wall could protect a family's shared sleeping area.
But exactly why the light wall works, Márka doesn't know.
"The mosquitoes are probably scared," Márka explains – though he doesn't expand on the psychological mechanism of fear in a being as rudimentary as the malaria-carrying Anopheles gambiae. "They could go through the light barrier without getting hurt, but they don't," he says.
He also seems to have more sympathy for mosquitoes than the little blood-suckers have for their prey. "That's the beauty of it because you don't have to necessarily kill them," he says. "You just make them go away." ®
Sponsored: Webcast: Ransomware has gone nuclear