This article is more than 1 year old
Alien city lights could be detected across interstellar space
ET hiveplexes easier to pick up than their TV signals
Top boffins in the US say that it should be possible to detect alien civilisations on planets orbiting other stars by looking for the light of their cities standing out at night.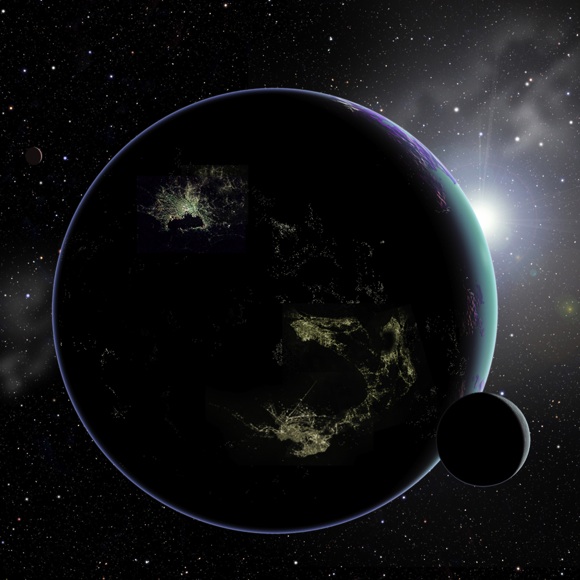 Hiveplexes Three to Five sadly gave away the peaceful Goldurnians to the Earthling invasion fleet.
The proposal comes from Avi Loeb of the Harvard-Smithsonian Center for Astrophysics (CfA) and Edwin Turner of Princeton uni.
"Looking for alien cities would be a long shot, but wouldn't require extra resources. And if we succeed, it would change our perception of our place in the universe," says Loeb.
The plan relies on the assumptions that aliens would use artificial lighting when their location on their planet was turned away from their local star, as humans do. This might not be the case for various reasons, but at least some alien races – if there are a decent number out there – would seem likely to have illuminated cities or something like them.
The good thing about this is that, according to Loeb and Turner, exoplanets with such city/hive/beingness-assemblage lighted patches could potentially be picked out from the rest as the variation in total light emitted from it would show a different signature to that from one without lighted areas. Admittedly this would require telescopes more powerful than those now in service, but the pace of development in humanity's telescopes has been rapid in recent times and the wait for such instruments might not be impossibly long.
According to the CfA, announcing Loeb and Turner's calculations:
As the planet orbits, it goes through phases similar to those of the Moon. When it's in a dark phase, more artificial light from the night side would be visible from Earth than reflected light from the day side. So the total flux from a planet with city lighting will vary in a way that is measurably different from a planet that has no artificial lights.
The two boffins calculate that current telescopes could detect a city the size of Tokyo as far off as the Kuiper Belt, the region beyond the planets where icy bodies such as Pluto and Eris are found. They say that testing city-spotting tactics could usefully be done by means of observations on Kuiper-belt bodies.
"It's very unlikely that there are alien cities on the edge of our solar system, but the principle of science is to find a method to check," says Turner.
City-spotting could be a better means of finding alien civilisations than traditional methods such as listening out for their radio transmissions. This used to be highly favoured, and our own habit of broadcasting radio, TV etc was thought likely to draw visitors to us, too (see the bottom of this Reg article for a handy guide to the Earth programming reaching various nearby exoplanets in recent years).
Nowadays, however, humanity is beginning to emit much less in the way of detectable radio waves as we make much more use of directional signals and cables to carry our comms and content. Unless an alien civilisation were fortunately/unfortunately placed in time and space it might never spot us by these means, and the same goes for us spotting them if the ETs should follow similar paths of development.
But our city lights blaze brighter and more numerous every year, so it may well be that future SETI efforts will prefer to search for similar phenomena rather than trying to tune in to broadcast transmissions.
Loeb and Turner's work on subject has been submitted to the journal Astrobiology and can be read in advance of publication here. ®