This article is more than 1 year old
Are we in the middle of a patent bubble?
Fallout from the IP wars could mutate your smartphone
Analysis For some time, the only reason the word 'patent' meant anything to the average Joe was if they happened to know that Albert Einstein was a patent clerk before he became a rock star physicist.
Nowadays, everyone is well up on the Great Patent Wars of technology firms, in particular the face-off between Apple and Android OS partners like Samsung and HTC in the smartphone sector.
A little-known asset of firms is suddenly being seen as just that - an asset - something that can be traded and sold, and something that has whatever value the market will ascribe to it. And that could be a dangerous thing for tech companies and users alike.
Analysts are beginning to get concerned about a patent price bubble forming, where the amount of money a company, or indeed an individual investor, will pay for an intellectual property (IP) portfolio rockets out of all proportion to what it's worth.
Just like a price bubble in any other asset, the current market for patents has all the ingredients necessary to push prices up in an uncontrolled manner - high demand, the growth of a secondary market consisting of traders rather than users of patents, and scarcity of good quality IP. The economics here are simple, there's not much of the stuff, but lots of people want some, so the price goes up.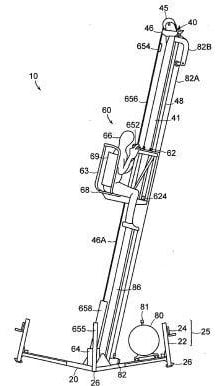 Patent application for a military man-cannon
intended to shoot troops onto rooftops.
This one might not be worth a whole lot.
Add into that the potential revenues from patents - whether you just get other companies to pay you for using them or you use them yourself to enter a lucrative technology sector - and you've got a volatile mix that could cripple innovation, drive up tech prices for end-users and leave some investors out of pocket.
But not everyone's sure the bubble really is on its way. Adam Sutton, director of valuation practices at Price Waterhouse Cooper says prices do seem high, but the value of a patent is tough to measure.
"I think it's very difficult to say a bubble's formed, you can say people are paying high prices but it's very challenging to actually measure what is the strategic and defensive value of a patent," he told The Register.
However, the traders on the ground are starting to worry. Peter Holden, head of IP investment group Coller Capital said in a recent webinar on the prospect of a patent price bubble; "From our perspective, we definitely do see a bubble, specifically in the wireless sector."
"We're [also] finding in certain technology sectors - med tech, commerce, LED, batteries and social networking - there's a perennial need and high demand for patents," he added.
The wireless sector is certainly the most high profile arena for patent sales at the moment, something kicked off by the sale of Nortel's patent portfolio for $4.5bn at the start of the summer to a consortium that included Apple, Microsoft, Sony and RIM.
As the mobile phone industry has moved into smartphones, many companies have been left behind and like Nortel, they have patents they can sell or licence to get cash flowing back into their businesses.
Holden speculated that RIM and Nokia might also consider sell-offs of patents in future and there have also been recent rumours that RIM as a whole could go on sale.
The IP held by either of these companies would look hugely attractive to any firm, but particularly of course to the big players in smartphones, Apple, Android (as a shorthand for Google and its manufacturing partners) and to a lesser extent Microsoft.
PWC's Sutton thinks the high prices paid for a portfolio like Nortel's, or potentially a RIM or Nokia portfolio, are worth it, because this race is about market share in a hugely lucrative industry.
"People are rationally paying higher prices to make sure that they maintain or enhance or their market share," he says.
"If you think that current smartphone shipments are around 300 million, somewhere on that level, and forecast by 2015 to be closer to a billion, that's massive growth and if you take the average price of a smartphone that's a very big market."