This article is more than 1 year old
Are we in the middle of a patent bubble?
Fallout from the IP wars could mutate your smartphone
But it's not just those who want to use the patents, or guard against litigation on their products, that are buying up IP. According to Holden, there's a growing secondary market in patents, where they're traded like any other asset.
"The whole ecosystem is growing quite rapidly," he said.
However, Ralph Eckardt, managing partner of 3LP Advisors, said in his part of the patent price bubble webinar that a separation had to be made between the big-bucks acquisitions like Nortel and Google hoovering up Motorola Mobility, and the asset-trading IP sales.
"These deals shouldn't be correlated with trading deals, these are more about strategic positioning," Eckardt, whose company designs and executes transactions involving IP assets, said.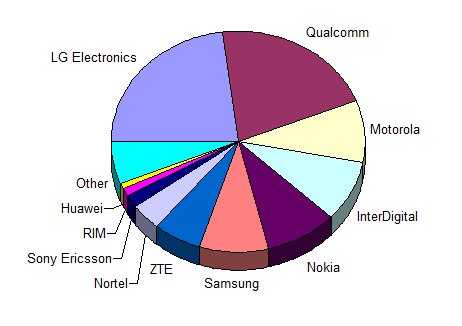 Distribution of LTE (4G mobile tech) patents among the players.
"When we think about strategy, these deals are all about positioning in the marketplace for phones and tablets and about market share, they're not really about exclusion."
In the old days, according to Eckardt, the best route to cost competitiveness in the tech sector was scale - get big quick to reap the cost benefits. But nowadays, IP is the issue that's important to keep costs down.
"For example, if Android is free and it's going to continue to be free, what chance does Microsoft have? How can it possibly compete?" he asked. "But if you force the users of Android to pay, you make Microsoft cost-competitive. IP can be used to dramatically change the cost structure."
And this is the issue that most of the regular punters want to know about, are these patent battles going to drive up the cost of the handsets for the users? Will you be forking out twice as much to lay hands on the iPhone 6 or the Galaxy Nexus 3?
PWC's Sutton says price rises are a possibility, although he feels that competition will keep the jump from being too high.
"I think there'll be a short term impact on prices but it's still going to be a hugely competitive market - where volume of handsets is important, I think there'll still be strong price competition. I wouldn't be too pessimistic about the impact on prices," he says.
The other major issue is that the phones will get crappier because patent wars are stifling innovation, but Sutton doesn't subscribe to this either.
"A lot of people have talked about it being bad for innovation but I think the ability to enforce patents is a core aspect of what drives people to invest the huge sums of money that they do in R&D," he says. "And ultimately that will be of benefit to the end user, even if in the short term there is an increase in prices as some of the litigation is settled in the form of higher licence payments by some of the makers."
If you're looking for any more variation than the big three - Apple, Android and to a lesser extent Microsoft - you might be out of luck though.
The simple fact is, all of the current smartphones are built on top of each other in one way or another (we'll leave it to the courts to unpick exactly how), which means the patents being fought over now are quite likely to decide how the market looks for the foreseeable future.