In the latest example of the tsunami of adulation that has followed Steve Jobs' untimely death – and the latest reminder that there's a dollar to be made from every tragedy – the eyeglasses worn by the Apple cofounder on the cover of Walter Isaacson's biography are flying off store shelves.
As reported by The Wall Street Journal, Kowloon-based eyewear distributor Power Bloom turned its booth at a Hong Kong trade show into a shrine to the late Apple CEO.
The sacred object on display is a pair of rimless, platinum-framed glasses from the German eyewear manufacturer, Lunor, a photo of Jobs wearing them, and the legend: "Steve Jobs 1955-2011: We have lost an ultimate genius. What he has left us are his overwhelming ideas and his favorite glasses."
Well, not Jobs' own glasses, per se, but why quibble with such details?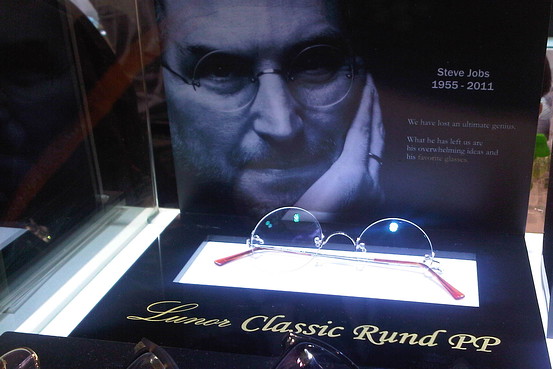 A merchandising tribute at a Hong Kong tradeshow (source: Alex Frangos/Wall Street Journal
Lunor is also capitalizing on their connection to Jobs' eyewear, featuring tributes to him on both the company's home page and news page – although they do have the decency to add "Our deepest sympathy for his family and staff."
According to the WSJ, a Power Bloom marketing exec says that sales of the $450 glasses have "dramatically increased" since Jobs' death – hundreds of the pricey specs have been purchased "as a tribute to Mr. Jobs." ®
Bootnote
For further guidance on "What should I wear to look like Steve Jobs?", AmelieMRL has some advice on Tumblr – although The Reg does puzzle over her suggestions of Opaque Pantyhose by American Apparel and a Mirror Metallic Skinny Belt from Asos.