Our own star has developed an astonishingly huge case of hyperactive acne, with one blemish so large you could plop 18 or 19 earths onto it, and still have room to spare.
That is, of course, if you could maneuver them close enough without the planets melting, or being sucked into that big ol' ball-o-plasma's guts.
At 1900 universal time on Thursday, NASA's Solar Dynamics Observatory (SDO) observed an exceptionally large sunspot as it rotated into view. It's a biggie: sun-boffins estimate it to be about 80,000 kilometers long and 50,000 kilometers wide – easily one of the largest such magnetic disturbances to speckle the sun in many a year.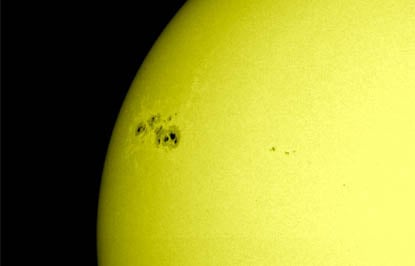 The sunspot with a lovely name: AR1339 (click for full solar view)
What's more, this ginormous pimple has since popped, unleashing a huge solar flare – of the X1.9 class, for you flare geeks – at 2027 universal time on Thursday.
For you non–flare geeks, let's just say that an X1.9 flare is both large and powerful, but not colossal or overly troubling. Nevertheless, the flare "triggered some disruption to radio communications on Earth beginning about 45 minutes later," NASA said.
Just to make things a wee bit more exciting, NASA has determined that AR1339 is interacting with the magnetic fields produced by a couple of other good-sized sunspots. By using the SDO to observe the disturbances' magnetic field lines, made visible in extreme ultraviolet light by particles spiraling along them, NASA was able to construct one hell of a video of hellish solar activity.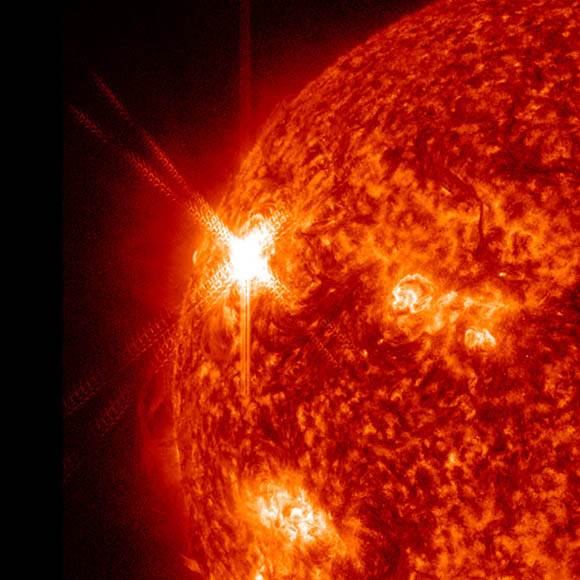 NASA's SDO provided this image of an X1.9-class solar flare erupting from AR1339
Next year, as we all know, has been predicted by many to contain not only the end of all human civility in the guise of November's US presidential election, but also the end of all human civilization in late December. While most reasonable humans pooh-pooh such predictions, some spotlight seekers – are you listening, Michio Kaku? – predict that the impending peak in solar activity forecast to occur in the 2012-2014 timeframe might wreak its own special level of destruction.
The Reg says fuggedaboutit. There may be some sporadic disruptions caused by X-class flares erupting from enormous sunspots such as AR1339, but as fun as it might be to deal in alarmist tales such as one billion deaths or a "Katrina from space", don't start stocking up on bullets and canned goods anytime soon.
Still, if AR1339 and its follow-on big boys cause your heart to palpitate, maybe you should make a reservation with the bunker-builders at Vivos. ®