US tyre company and former airship builder Goodyear has come up with a new word as part of a marketing ploy. The firm, introducing online polls to determine which sporting events its iconic airships should attend, has framed the question: is a given event "blimpworthy"?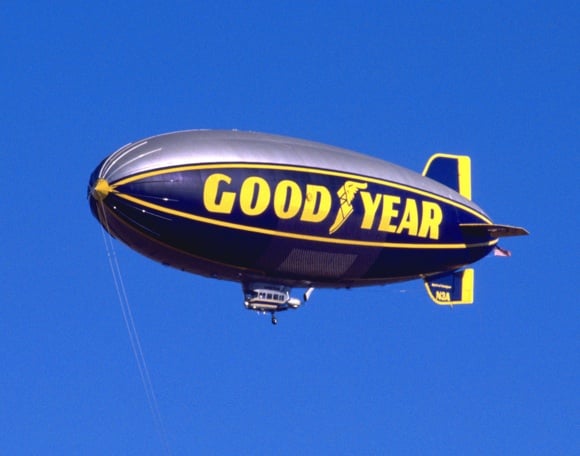 Still actually a blimp. But not for long.
US sports fans voted last week to determine which of three college football matches was the most blimpworthy, and there will be another online poll run by ESPN later this month.
In a statement announcing the new polls, Goodyear says:
Goodyear's blimps are among the most recognizable brand icons, representing the largest tire company in North America. They have adorned the skies since 1925 and have served America as aerial aircraft carriers, surveillance airships protecting merchant ships and early warning radar stations through the 1950s. Today, the fleet consists of three North American airships - Spirit of America in Carson, California; Spirit of Goodyear in Akron, Ohio; and Spirit of Innovation in Pompano Beach, Florida.
This will doubtless cause airship nerds to grind their teeth somewhat. Back in the 1930s Goodyear made airships, and did indeed team up with the Zeppelin company of Germany to build the mighty USS Macon and USS Akron, the US Navy's flying aircraft carriers (the ships carried a force of biplane fighters which they could launch and recover in mid-air). However these ships were not blimps, with a flexible envelope that maintains its shape by internal gas pressure: they were rigid ships with gas cells carried inside a vast, lightweight aeroshell.
After the disasters which befell the Akron and Macon (both lost in storms at sea after disappointingly short flying careers), the US Navy gave up on rigid airships, though it did maintain a large blimp fleet into the early Cold War, as Goodyear says. The partnership with the Zeppelin corporation was naturally cut short by World War II.
Unfortunately perhaps for the concept of "blimpworthiness" and the iconic brand status of the Goodyear Blimp, however, the Zeppelin company came back to life in the 1980s and Goodyear has recently announced that Zeppelin "Neue Technologie" ("NT") ships are soon to replace the current US blimp trio.
NT zeppelins possess a partial internal structure of GRP and aramid, however, which allows their propulsion to be situated away from the gondola and links both to the control surfaces. This offers various safety and handling benefits.
It also means that the new Goodyear Blimps will not in fact be blimps any more: technically they will be semi-rigid ships.
It seems unlikely, however, that anyone will care enough to stop calling them blimps – it's already routine for the news media to use "blimp" as if it meant the same as "airship" or "dirigible". So the idea of "blimpworthiness" may live on even once the NT ships arrive, though strictly speaking Goodyear should shift at that point to "zeppelinworthiness" or similar. ®