This article is more than 1 year old
Hard disk famine shaping up as predicted after floods
Would you steal or kill if your family needed storage?
Flooding in Thailand is causing disk drive supplies to dry up and prices to rise.
There is lots of anecdotal evidence confirming channel information about flooding-caused drive shortages. One example; blogger Zorinaq shows a chart from price-tracker Camelegg depicting a 180 per cent rise in Samsung SpinPoint 1TB SATA drive from September to late October.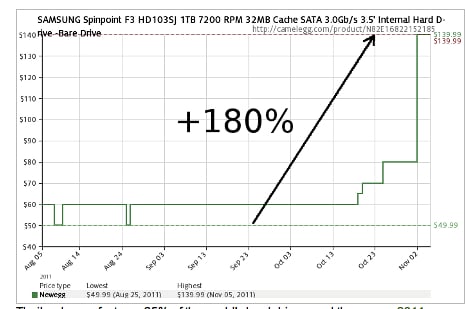 Samsung SpinPoint SATA drive price rise
EMC blogger Storagezilla noted two drives per buyer rationing at a High Street retail store. There is background situation detail on James Hamilton's blog.
Basically the Thai floods have taken out Western Digital and Toshiba's disk drive operations at Bangkok, with an industry shortfall this quarter of 50 million or more drives. It is not known how long it will take to get the plants and any affected component suppliers back to full operations. As the supply chain transit from Thailand to points of sale is a lengthy one in timescale terms the shortages are bound to persist into 2012 with, perhaps, the first quarter showing severe drive availability constraints and price rises and a gradual amelioration after that in the second and third quarters.
Flash storage suppliers such as OCZ and Micron anticipate a rise in solid state storage demand as frustrated drive buyers trade up, but this is a drop on the ocean as flash fab capacity cannot simply ramp up to cover the missing drive gap, even if flash prices made that an affordable prospect.
Disk drive suppliers are prioritising their major OEM deals, naturally, and it's the people buying one to 20 drives online, or in retail outlets who'll see the severest shortages and sharpest price rises. There are also knock-on effects on the PC industry, with smaller suppliers worse affected than large ones.
The floods are Thailand's worst in half a century, and have left over 500 people dead, according to the government. They have caused untold damage to infrastructure in the region. One-fifth of Bangkok is now underwater, according to the BBC. ®