This article is more than 1 year old
Linux Mint moves to Gnome 3, keeps Gnome 2 MATEy
Lisa goes both ways, with shell to ease transition
The forthcoming release of Linux Mint will see it shift to the Gnome 3 desktop for the first time, but it will continue to support Gnome 2 users with a separate root, and has a shell to ease the transition between the platforms.
The Linux Mint team does see Gnome 3 as the way forward, it explained in a blog post, but recognizes it's a big shift to make. Gnome 3 has received heavy criticism, not least from Uncle Linus, mainly because it changes the traditional way of doing things. In particular, Linux Mint members cite poor multitasking and a shift from an application-centric to a task-centric model.
Linux Mint has stuck with the popular Gnome 2.32 interface longer than most Linux distributions, and it has seen a 40 per cent increase in migration levels as other builds have shifted to Gnome 3 or Unity formats. Its version 12 build, codenamed Lisa, is going to shift to Gnome 3, but is also including MATE, a fork in Gnome 2.32, which keeps the functions of the earlier system.
MATE is new code, and there are conflicts between it and Gnome 3, but it will be present in the release candidate build, Linux Mint spokesman Clement Lefebvre told The Register. All the package and file conflicts between MATE and Gnome 3 have been resolved, and it's now a case of sorting out themes, applets and additional components.
"For instance mintMenu is being ported to MATE at the moment, and it requires the MATE python bindings, which themselves are not part of the core MATE desktop. So we're extending this and bringing the missing pieces to make sure everything works as expected," he said in an email.
"Will the bindings be ready in time for mintMenu to be there as well? We don't know for sure. There will be eventually though, and so whether it's post-RC or even post-Stable release, we'll continue to add to MATE."
While this is going to keep the Gnome 2 die-hards happy, in the longer term an upgrade is inevitable for most, so Lisa will also have a shell system that lets users work under Gnome 3, but in the work style of Gnome 2. The system of Mint Gnome Shell Extensions (MGSE) sticks with the original application focus of the earlier system, but is customizable so users can gradually ease themselves into the new Gnome bit by bit.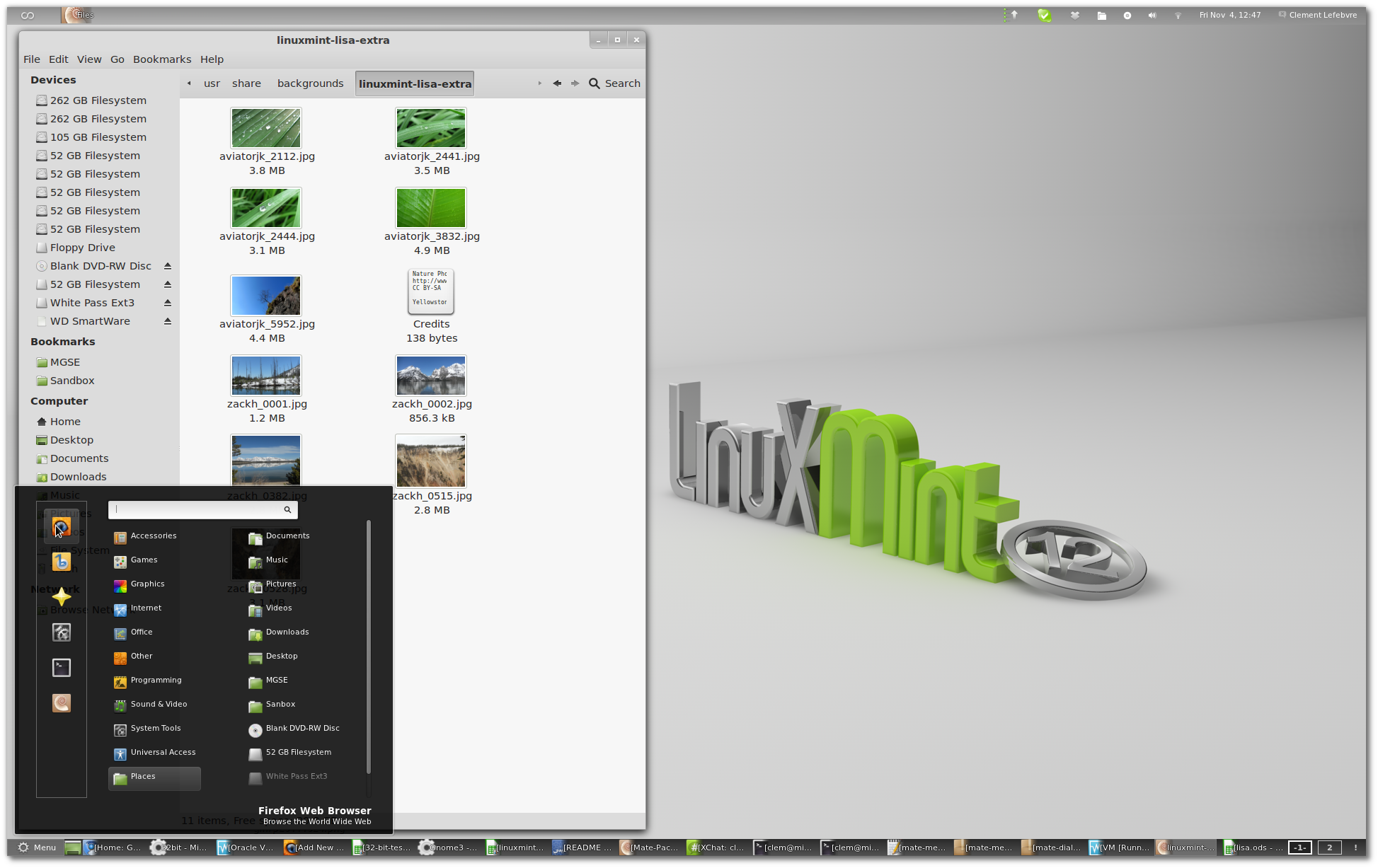 MGSE should allow an easy upgrade path to Gnome 3
This twin strategy should allow Linux Mint to keep its existing user base up to date, while offering the Gnome 2 holdouts an option, and the tools to upgrade should they so desire. It's too soon to say which way the user base will go, but the strategy should satisfy the greatest number of users.
"Both MATE and MGSE are brand new to everybody, so it's too soon to bet on either one of them at this stage", Lefebvre explained. "The best course of action is to work hard on supporting both, they will both improve over time, and keeping an open mind and an ear for the community to know if one of them is unpopular or not necessary anymore".
Another change in Lisa comes in funding, specifically search engine revenue. Instead of its own search engine the company is working with third parties, including Google, Ask.com, Amazon, eBay and the non-commercial Wikipedia.
Negotiations are ongoing with Bing and others, but the team says that Linux Mint is the fourth most popular desktop OS in the world, and if they are going to use commercial search then the project must see a return from its user footprint.
"Search engines which do not let us in the revenue our users generate for them won't be part of Mint anymore", Lefebvre said. "It's a tough stance but that's how we remain free and focused on our product. It's the best business model for our users". ®