Flash fab operator and drive supplier Micron is going to rapidly strengthen its server flash offerings, as well as developing its desktop/notebook SSDs.
At the moment it offers a single PCIe flash card product, the single level cell (SLC) P320h using 34nm technology. According to a chart presented at a Needham investor conference, this is going to have a multi-level cell (MLC) brother added, we think, in 2012. Typically MLC flash is slower and used in larger capacity product than SLC flash.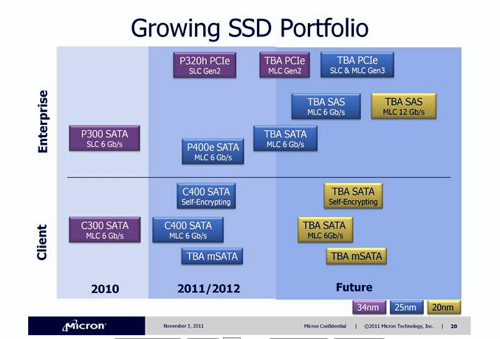 Micron's SSD roadmap
As the P320h tops out at 700GB we might see a 2-bit MLC twin with up to 1.4TB of capacity. This baby will be followed by a 25nm refresh of both it and the P320h in 25nm technology in 2013 or later.
Micron's 25nm, 6Gbits SATA, P400e entry-level enterprise solid state drive (SSD), which uses MLC flash, will be followed by another MLC product with the same interface in 2012/13, and a SAS interface one in 2013/15 with a 20nm, 12Gbit/s SAS one using 20nm technology after that. It is the first 12Gbit/s SAS interface product we have come across.
Client flash
Micron thinks the client SSD market will grow to a $7bn market by 2014, from $2.6bn today. In comparison the enterprise SSD market is around $900m now and will be about $3.5bn by 2014.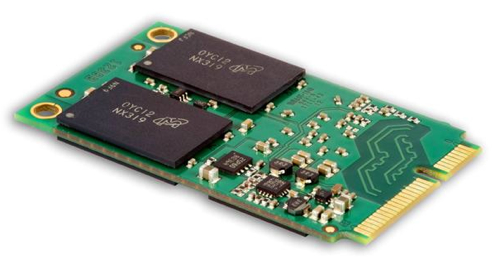 C400 mSATA card
It has a desktop and notebook SDD called the C300, a 6Gbit/s SATA, MLC device using 34nm technology. This was followed by a C400 using 25nm technology, of which mote than 700,000 have been shipped, and a mSATA format version is due too, targeted at tablets and ultrabooks. This SSD could be used as a cache with a disk drive holding all the data behind it. We expect this mSATA C400 by the end of the year.
In 2013 or later, this 3-product set for clients will be refreshed with 20nm technology. ®