Open ... And Shut Cloud computing may be the future, but it appears to be one fraught with unpredictable downtime and security breaches. In other words, it's very much like the bad ol' days of corporate data centres, except that this time Amazon, Salesforce and other cloud providers get the blame when things go wrong - rather than one's local IT folks.
But if history is any guide as to the problems inherent in letting someone else manage one's applications and data, an open-source approach is going to win a plethora of converts, and Red Hat will claim the majority of these.
Yes, Red Hat. The company isn't known for cloud computing and has sometimes struggled to articulate what, exactly, its cloud computing strategy is. For some time it mostly worked in the background, enabling others' public clouds, including Salesforce.com and Fujitsu's cloud.
This is changing. The company's website is now awash in cloud-related documentation, and Gunnar Hellekson, Red Hat's Chief Technology Strategist for its US public sector group, has whittled down Red Hat's previously complex strategy into just one tweet: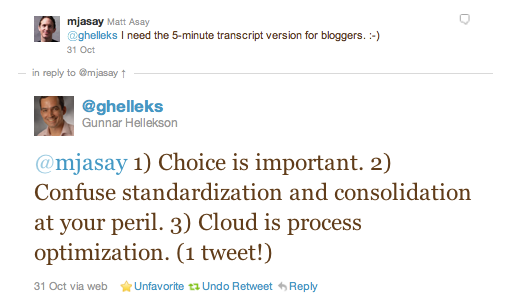 Hellekson then followed up this tweet with a lengthier, though still pithy, explanation of Red Hat's cloud strategy. It largely follows the company's battle plan in servers and server virtualisation, and so serves as fair warning to Red Hat's proprietary-prone competitors.
In a nutshell, Hellekson's explanation boils down to this: Red Hat is going to commoditise competitors' monolithic, winner-take-all cloud approaches that remove complexity but also customer choice, with standardized building blocks that work across physical, virtual and cloud-deployed systems, simplifying IT's task of application delivery and allowing IT to focus on business process efficiencies. Were I to narrow it down even further, I'd use one word: choice. Choice sells, and always has, for Red Hat.
So while proprietary Salesforce.com pot calls the proprietary Oracle kettle black, the best of either comes out looking a very murky hue of charcoal grey. Throw in the cost of proprietary approaches with rampant doubt that cloud computing can deliver serious security and we have a perfect storm for Red Hat's cloud story.
This is the same play book that won so much of the server operating system market for Red Hat, and has put it on course to take a big bite of VMware's virtualization business. It's likely to prove a winner in the cloud, too.
Not that its competitors are standing still. As I've noted before, VMware is getting aggressive with open source and open approaches to cloud computing, with a lead over Red Hat's OpenShift.
Rackspace's OpenStack offspring, too, can lay claim to serious open cloud credentials. And we know from the server wars that plenty of enterprises will opt for proprietary alternatives like Microsoft and Oracle, anyway. There's (perceived) safety in entrusting one's IT choices to a big vendor.
In other words, while Red Hat's strategy has all the trappings of success, "success" likely won't mean global domination. But it should help the company reach its next billion in annual revenue. I suspect Red Hat likes that "choice" just fine. ®
Matt Asay is senior vice president of business development at Strobe, a startup that offers an open source framework for building mobile apps. He was formerly chief operating officer of Ubuntu commercial operation Canonical. With more than a decade spent in open source, Asay served as Alfresco's general manager for the Americas and vice president of business development, and he helped put Novell on its open source track. Asay is an emeritus board member of the Open Source Initiative (OSI). His column, Open...and Shut, appears twice a week on The Register.