This article is more than 1 year old
Russian Mars mission launches after multi-year delays
Phobos-Grunt scheduled to head to Mars later today
After years of delay, Russia has successfully launched its first planetary probe since the Mars 96 failure at the end of the last millenium.
The craft – Фобос-Грунт, or Phobos-Grunt ("grunt" means "soil" in Russian) – lifted off right on schedule at 2:16am local time (20:16 UT) from the Baikonur Cosmodrome in Kazakhstan, aboard a two-stage Zenit-2SB41.1.
The craft was successfully inserted into orbit in preparation for heading off to Mars about five hours after liftoff.
If all goes well, Phobos-Grunt will arrive at Mars in October of next year, circle the planet for a few months, then land on the Martian moon Phobos, where it will pick up a few hundred precious grams of pebbles and dust. A return vehicle will then lift off from that moon and arrive back on Earth in 2014.
Phobos-Grunt will leave behind a few instruments on Phobos, including a mass spectrometer, which will continue to send back readings.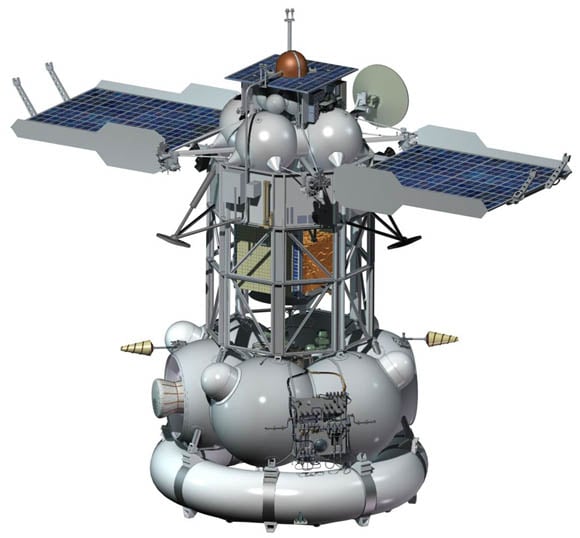 Phobos-Grunt: interplanetary exploration on the cheap (click to enlarge)
Also left behind will be a Chinese satellite, Yinghuo-1, a 115-kilogram probe that is hitching a ride on Phobos-Grunt for its mission to orbit Mars in a near-equatorial eliptical orbit, studying the Red Planet's magnetic and gravity fields, ionosphere, and surface details, in China's first interplanetary mission.
Phobos-Grunt is Russia's fourth attempt at completing a successful Mars mission. The first two – Phobos 1 and 2 – made it to Mars, but then suffered critical failures that rendered them useless.
The third – Mars 96, aka Mars 8 – didn't even get that far; it crashed into the ocean when its fourth stage failed shortly after liftoff in November 1996.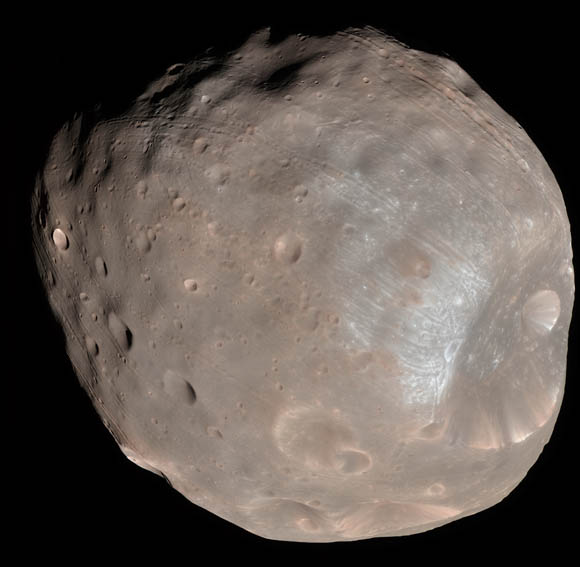 Russian space boffins have been trying to reach this giant space potato since 1988 (click to enlarge)
Phobos-Grunt is space exploration on the cheap. The total cost of the mission is about 5 billion rubles – just $163 million. Unlike the Mars 96 mission, which lifted off aboard a larger, more complex, and more expensive four-stage Proton launch vehicle, Phobos-Grunt was tossed into space by the smaller, cheaper Zenit.
The idea of sending a spacecraft to Phobos, gathering samples, and returning them to earth was first hatched in the 1970s, according to RussianSpaceWeb. But after the failures of Phobos 1 and 2, and the total fiasco of Mars 96, Russian interplanentary exploration fell on hard times.
And then there was that small matter of the dissolution of the Soviet Union in 1990 and 1991, which resulted in not only a drift in focus, but serious space-agency budget constraints, as well.
In addition to the Yinghuo-1, there's a lot riding on Phobos-Grunt – the credibility of Russian interplanetary space exploration, for example. ®