The Register has been shooting some video of late, and on a recent visit to Key Studio came across a coffee table we think is worthy of some attention.
Yes, we should have picked up that bag to tidy up this shot
The table's pedestal is a Mac Pro, sucking the juice from two dual core Intel Xeon 5150 processors with 4 MB of shared level 2 cache for each processor, a 128-bit SSE3 vector engine, and 1.33 GHz "64-bit dual independent frontside buses."
The Pro replaced Apple's flagship Power Mac line, the workstation billed as the world's 64-bit personal computer thanks to its use of the PowerPC G5.
Mike of Key Studio told us that he spent so much money on the Pro over the years, mostly on new and ever-faster video cards, that when it finally became redundant he just couldn't bear to throw the thing out.
Hence its new role as a coffee table. The machine now sits in the studio's green room/reception area, where it's often a conversation-starter.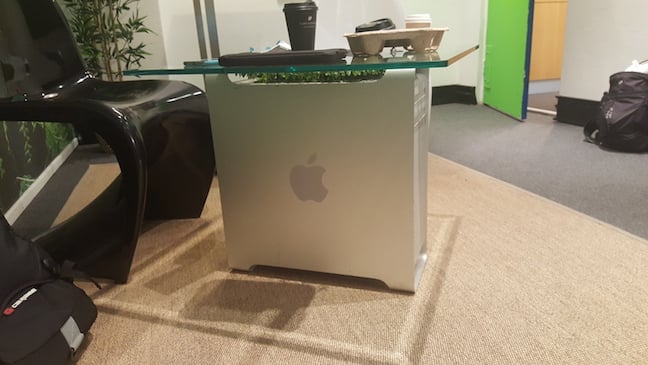 There's not a scratch on her!
The glass rests on the workstation's two handles. It's pretty thick glass, maybe 1cm deep and 80x80cm across, which meant there was easily enough space for a few coffees and gadgets. It's splendidly stable: at no time did we think we'd lose a coffee to gravity. The foliage there is fake, by the way, but rather matches the studio's wallpaper.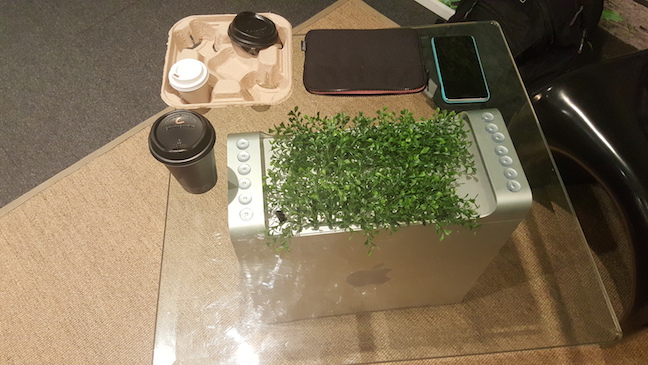 It's hip to be square
We present the table for two reasons.
Firstly, it's a pleasing artefact.
Secondly, we know, deep in our marrow, that Reg readers will be using old kit to prop things up in even more interesting and creative circumstances. We also know that some of you will be generous enough to share news of those items with us. If you're one of those generous souls, mail me with some pics and we'll show off your cleverness to the world. ®
Similar topics