This article is more than 1 year old
Amazon's Kindle Fire burns iPad momentum
26% of Fire fans put off 'Pad purchases
A new survey indicates that Amazon's Kindle Fire tablet is causing some prospective iPad purchasers to think twice.
Conducted by ChangeWave Research and reported by Fortune, the survey asked 2,600 "early adopter types" about their purchase plans for the Kindle Fire, which will be released next on Tuesday.
Of those surveyed, 26 per cent of those planning to purchase a $199 Kindle Fire responded that they were delaying or putting on hold a purchase of Apple's $499-to-$829 iPad 2.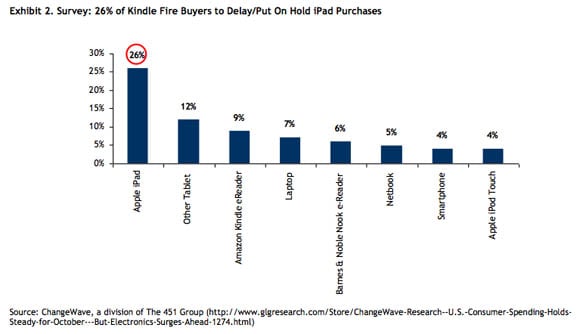 The Kindle Fire appears to be putting a damper on prospective iPad 2 sales (click to enlarge)
In addition, the survey discovered that the pre-sale demand for the Kindle Fire is approximately equal to that of the iPad before it was released: 5 per cent of those "early adopter types" had pre-ordered or were "very likely" to buy a Kindle Fire, while 4 per cent said they were "very likely" to buy an iPad before its überballyhooed April 2010 release.
Before you jump to the immediate conclusion that the iPad now has a serious competitor – and a much less expensive one, at that – The Reg suggests that you arm yourself with a few grains of salt.
First, the Kindle Fire and the iPad are quite different beasts. Yes, they're both touchscreen tablets – although Amazon's fondleslab has a 7-inch display and Apple's a 9.7-incher – but their usage models are different. The Kindle Fire is a loss-leading gateway into Amazon's content trove, while the iPad is a more general-purpose device.
We were going to attempt some sort of lame reference to an "apples to oranges" comparison – what with fire being orange and all – but we'll save you the groan.
Also, the comparison of 5 and 4 per cent pre-sale demand is, in our mind, an excellent example of ahistorical bogosity. Before the iPad shipped, no one really knew what a tablet experience could be. The only tablet experiences folks had (aside from mini-tablet-ish smartphones, of course) were with those hyper-lame – or, to be kinder, hyper-specialized – Windows tablets from days gone by.
But now, thanks to the iPad, Samsung's Galaxy Tabs, and even such stragglers as the Motorola Xoom and HP's late and unlamented TouchPad, prospective purchasers have a much better idea of why they're giving out their pre-order credit card numbers.
That said, the 26 per cent figure is still impressive, though not in that it clearly indicates that the iPad is in for a rough time – which, in fact, it might be, for those purchasers who are primarily interested in smaller-screen convenience and pure content consumption.
What's interesting to us is that the Kindle Fire may prove that there's more than one way to sell a tablet, and that the tablet market may be broader than a mere one-size-fits-all model.
That is, if the Kindle Fire doesn't suck. If it does, all bets are off.
We'll find out next week. ®