Lost cities found beneath sands of Sahara by satellites
'Advanced civilisation' suppressed by Romans and Gadaffi
Satellite images have revealed the ruins of a long-lost civilisation which existed in what is now the Sahara desert in Roman times and before. Archaeologists hope that the toppling of Libyan dictator Colonel Gadaffi, who has controlled access to the region in modern times, will permit the secrets of the lost cities beneath the sands to be unravelled properly at last.
According to David Mattingly, professor of Roman archaeology at Leicester uni, the vanished "Garamantes" culture was a highly advanced one. He says that satellite pictures show areas of extensive development where nowadays there is nothing but empty desert.
"It is like someone coming to England and suddenly discovering all the medieval castles. These settlements had been unremarked and unrecorded under the Gaddafi regime," says Mattingly. He says the findings indicate an advanced civilisation, in contrast to Roman descriptions of the Garamantes as mere uncouth barbarian nomads prowling the southern borders of the Empire (Rome at that time ruling large stretches of North Africa).
"In fact, they were highly civilised, living in large-scale fortified settlements ... It was an organised state with towns and villages, a written language and state of the art technologies. The Garamantes were pioneers in establishing oases and opening up Trans-Saharan trade," says the prof.
Indeed a Leicester uni statement announcing new funds for research into the matter by its academics goes so far as to use the phrases "lost cities" and "castles in the desert".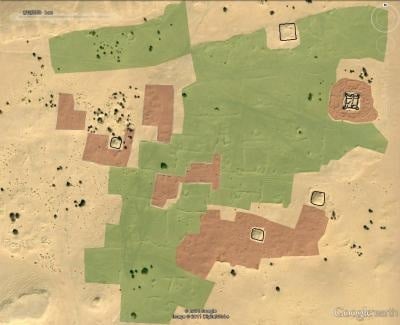 Buried Sahara civilisation sat-pic goodness
It seems that Colonel Gadaffi didn't much care for any serious examination of Libya's pre-Islamic past, and as a result scientists have found it difficult to gain access to the former domain of the Garamantes with its lost cities and castles. Mattingly did manage to mount an expedition earlier this year, but was forced to evacuate when the rebellion against the Colonel broke out.
According to Leicester uni:
The fall of Gaddafi has opened the way for archaeologists to explore the country's pre-Islamic heritage, so long ignored under his regime ... The Libyan antiquities department, badly under-resourced under Gaddafi, is closely involved in the project. Funding for the research has come from the European Research Council - who awarded Professor Mattingly an ERC Advanced Grant of nearly 2.5m euros - the Leverhulme Trust, the Society for Libyan Studies and the GeoEye Foundation.
"It is a new start for Libya's antiquities service and a chance for the Libyan people to engage with their own long-suppressed history," says Mattingly.
"These represent the first towns in Libya that weren't the colonial imposition of Mediterranean people such as the Greeks and Romans. The Garamantes should be central to what Libyan school children learn about their history and heritage." ®