Oracle dubs Solaris 11 world's 'first cloud OS'
'Absolutely spanking' IBM and HP
---
Oracle has duly and at last announced the Solaris 11 Unix system, developed under the code-name "Nevada" at the former Sun Microsystems and representing the foundation of the future Sparc systems business that Oracle hopes to rebuild.
Solaris 11 is perhaps a little later coming to market than planned because of the Oracle acquisition of Sun in January 2010 and the changes in chips and systems before and after the deal. More importantly, the delay is the result of Oracle's desire to fully leverage the Sparc processor, the Solaris operating system, and the Oracle stack of database, middleware, and application software as a highly tuned system with a better system for testing and patching software in the entire stack as it changes and thereby allowing Oracle to command a premium for Sparc-based systems because they are easier to operate and support.
This is, of course, the old AS/400 value proposition that IBM has been selling its midrange customers for more than two decades. The difference now is that Oracle actually believes it, and IBM, which makes a lot more money selling services to integrate piece parts and support them than selling its Power Systems running the integrated IBM i software stack, can't afford to.
Mark Hurd, co-president at Oracle, trotted out the same presentation about integrated stacks from Oracle that he has been giving since he took the job at the company more than a year ago. He called Solaris "the first cloud OS" and added that it was "the best OS in the world, the best Unix, with zero overhead virtualization."
The first two statements are objective ones, and exactly the position any chief salesman for the company would take, and the last statement is, on the face of it, physically and logically impossible since all virtualization imposes overhead.
Hurd said that there were "hundreds and hundreds of thousands" of Sparc systems out there in the world, that there were over 60,000 customers using it, and that 750 customers already had Solaris 11 (very likely including the Solaris 11 Express development release) in production. Sales pitch over until the Q&A session.
(Incidentally, at the launch announcement in New York today, journalists were persona non grata) and the questions were not fielded directly from the hand-picked audience but read out by Graham Lovell, senior director of hardware systems product management at Oracle, to Hurd and John Fowler, executive vice president of systems.)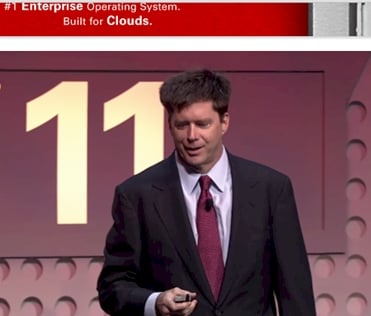 John Fowler, Oracle executive vice president of systems
Fowler opened up his technical review of Solaris 11 by reminding everyone that Solaris had more deployments than HP-UX and AIX combined, and added that "operating systems are something that only improve over time." He said that the combination of the new Sparc T4 systems announced in late September "absolutely spanked" the competition in terms of performance and price/performance running Oracle's software.
Fowler added that file de-duplication and encryption features that had been part of the Zettabyte File System (ZFS) add-on for Solaris 10 are now part of the OS services in Solaris 11 and therefore available to other file systems and applications. The de-dupe features can reduce storage use by a factor of ten, and the integrated encryption, using engines on the Sparc T4 processors, can be carried out at line speed. Built-in compression, also goosed by the processors, is also an important feature.
The virtualization stack for Solaris 11 is basically the same as for Solaris 10, so it is a bit confusing as to why Oracle is calling this the first cloud OS. (Hey, that's marketing for you. Joyent says the same thing about its Solaris-based Smart OS.)
Solaris has dynamic domains hardware partitions on Sparc Enterprise M machines and older UltraSparc machinery, logical domains running on a hypervisor that is assisted by the processor for the Sparc T series chips, and Solaris containers (a kind of virtual private server) for creating separate Solaris instances that run atop a single kernel and file system. Solaris 10 could run Solaris 8 and Solaris 9 inside of containers, and Solaris 11 can run Solaris 10 inside of containers. (Ah, but can you run Solaris 9 inside of a Solaris 10 container that is inside of a Solaris 11 container?)
The fluffiness of Solaris 11 that is arguably more sophisticated than in Solaris 10 is in the multitenancy design of Solaris containers, which nests together ZFS and encryption:
Solaris 11 does have a better installer and a new Image Packaging System, and perhaps more importantly for the enterprise customers that Oracle is chasing, it is backed by a dev and test cloud that runs continuously, testing patches in so many different combinations on various Oracle iron and software mixes that, according to Fowler, it is impossible to create a state of patching elements that has not been tested by Oracle before you apply the patches yourself.
This last bit is cloudy, and it is without a doubt good for customers. It also enables Oracle to clone production environments with ZFS, patch them, and do a rollback if something goes haywire. Fowler said that Oracle could create a clone environment, patch it, and reboot it in a matter of six minutes.