Review With the NR1602, Marantz has nuked the traditional AV receiver. The old template of massive amplification is out. In its place is an emphasis on networking prowess and design. The result is arguably the most forward-thinking receiver we'll see all year.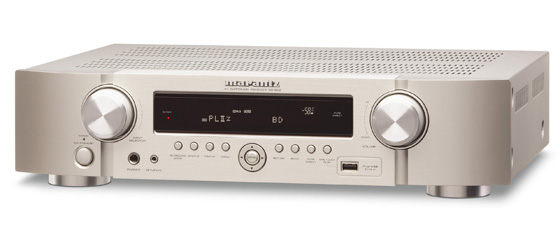 Big sound, slim frame: Marantz's NR1602 AV receiver
The brick-like aesthetics of conventional home cinema amplification have been banished. Instead we have unit that stands just 105mm tall. The NR1602 is available in black or a fetching silver/champagne and has a distinctive curved fascia. The look is potentially a little bit Marmite, but there's no doubting its flair.
While the NR1602 may be slim, its specification is phat. This is a fully-fledged 7.1 amp with network streaming, internet radio and Apple AirPlay compatibility.
Rear connectivity is functional without being excessive. There are four 3D-compatible HDMI inputs, a pair of component video jacks and a trio of legacy AV phonos. There's also Ethernet and an accessory M-XPort (Marantz-eXtension Port) for the brand's optional Bluetooth receiver, useful if you don't use an iPhone but fancy some wireless streaming anyhow.
The front panel offers a USB input which operates as both a digital iPod/iPhone connection and a media reader for thumbdrives and external hard drives.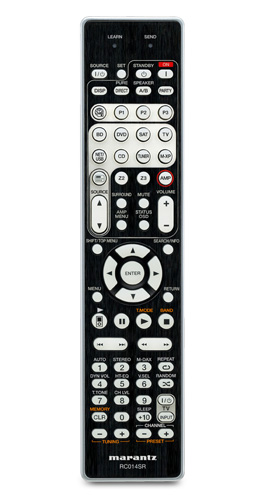 Cleanly laid out remote
The NR1602's user interface makes short work of setup. There's a wizard to take you through basic speaker connections, room calibration and system configuration. Partnering audio and video inputs is simplified by an onscreen mix and match input table (remember Sky doesn't support multichannel sound over HDMI). There's also an HDMI overlay for volume and channel selection.