Sound reinforcement
Auto-calibration comes courtesy of Audyssey's MultiEQ system. You can take measurements with the supplied microphone from multiple seating positions (the 2EQ Full Calibration mode), or just one (Quick Start). The results provide a good starting point for a nicely-balanced system set up, but some manual correction of misjudged speaker distance is likely to be required.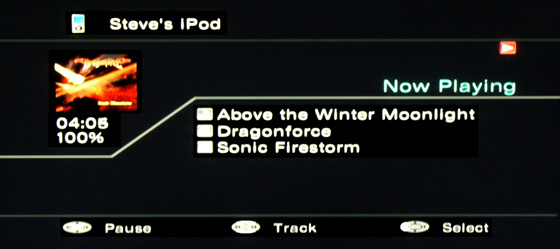 iPod playback screen
Part of the Audyssey package is Dynamic Eq, a two-faced equalizer that makes the assumption that music requires more aggressive equalization than movie content. To use the system appropriately, you'll need to manually juggle between them depending on what you're watching/listening.
To be honest, it's a bit of a faff having to manage all this, although some might find the effort worthwhile (I didn't). In addition to all the usual Blu-ray and DVD codecs, Audyssey DSX height/width processing is also available for those that prefer extra speakers at the front of the room rather than the rear.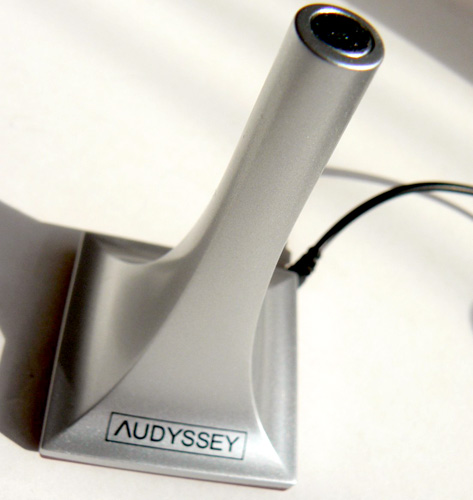 Audyssey set-up mic
Alternatively, if you don't want to run a full complement of speakers in one room, you can always configure the main system for 5.1 and set up a stereo refuge. Marantz rates the power output of NR1602 at 7 x 50W. This makes it a good deal less brawny than comparably priced, conventionally designed rivals. However, in a regular living room I'd argue this lack of grunt is not going to be an issue.
Given that the NR1602 still handles big dynamics well, and its power reserves remain usable right to the edge of the cliff (the amp doesn't get ragged or rowdy at volume), you're unlikely to feel as though you're sacrificing power on the altar of design.