Acer Iconia A500

Overshadowed to the point of anonymity by the competition from Asus, Samsung and Motorola, the Iconia A500 is still a decent machine that has benefited from Acer's prompt roll-out of the Honeycomb 3.2 update. Physically, it's perhaps a tad nondescript but the black and slate-grey livery gives it a smart and understated look - which is how I like my tech.
Inside you will find the customary 1GHz dual-core Tegra 2 chip with 1GB of Ram; and Skype-friendly 2Mp front and 5Mp rear cameras. There's nothing out of the ordinary about the 10.1in, 1280 x 800 LCD screen, but it's a decent panel with robust viewing angles. It's also a darn site better than the screen on the smaller, 7in Iconia A100.
The slab-sides - the device is a fairly chunky 13.3mm thick - may not be the last word in style but they do allow for easy access to the USB, mini HDMI, 3.5mm audio and micro USB ports. For £299 with 16GB of storage and Wi-Fi connectivity, the A500 is now very solid value. But battery life could be better and, at 765g, it could be lighter too.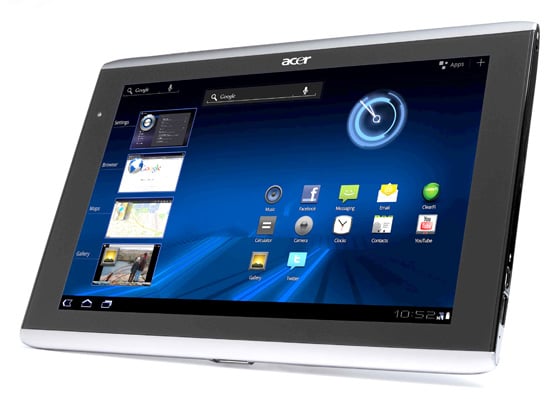 Reg Rating
75%
Price
£299
More Info
Acer
Asus Eee Pad Slider

Asus has wrung the maximum mileage from its 10in Android tablet by launching it in two distinct forms built from essentially the same parts. The Transformer, which I'll come to in a moment, has certainly proved to be a hit, but it's the Slider that offers the more radical interpretation of what a tablet can be and offers a more interesting alternative to the iPad.
Where the Slider leaves the page is with the addition of a built-in keyboard-cum-stand, a design that should attract users who want the convenience of a proper keyboard to get some serious typing done without having to buy or carry additional accessories. The chiclet keyboard is the full Qwerty banana too, not some cut-down excuse.
The sliding mechanism isn't the easiest to use until you get the hang of it. While playing with one at a trade fair earlier in the year, I had to ask the attending flack how to open it. Then after a few moments I closed it and... had to ask him again. Only after slowly part opening and part closing it a few times did the coin drop. Sadly, the recently announced UK price of £430 was higher than I was hoping for.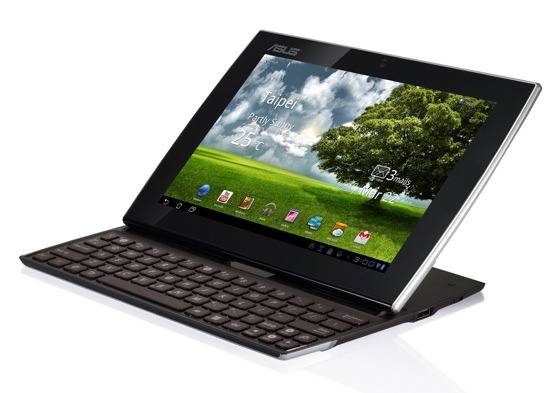 Reg Rating
80%
Price
£430
More Info
Asus
Similar topics