Pimp your ride
The first thing you'll notice when you start up Xfce for the first time is a top panel that resembles what you'd see in GNOME 2 and a bottom panel that's typically stocked with application launchers, shortcuts and workspace switchers. The exact layout on panels and what's in them will vary from distro to distro. For the purposes of this article I tested Xubuntu, the Xfce variant of Ubuntu, and Zenwalk, an Xfce-oriented distro. For the most part the functionality of Xfce was the same in both, though the Ubuntu distro will be a better choice for those already familiar with the Ubuntu Software Center and other Ubuntu-specific elements.
As with GNOME 2, Xfce's panels can be customised to your heart's delight, just right-click an item and choose "Properties". To customise the panel as a whole, just right-click the base of the panel and select "Panel Preferences". For the most part the panels in Xfce are much like what you'll find in GNOME, but there are a few differences and some things are even better. For example Xfce has a nice spacer feature that makes it simple to spread items out within the panel. There are also, just like GNOME's panels, a healthy selection of plugins to trick out your panel.
The rest of the desktop is similarly easy to customise. Just head to the System Settings app which handles everything you'd like customise on the desktop and the rest of the system. Really, everything is all in one spot.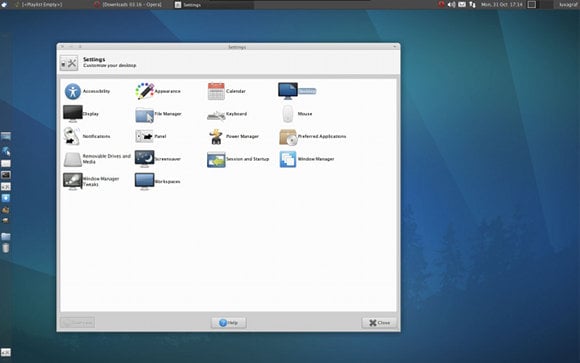 Xfce Settings (click to enlarge)
The file manager in Xfce is Thunar, which resembles GNOME 2's Nautilus and can do most of what Nautilus is capable of. The notable exception to that is split windows, which can be very handy for moving files around. In Thunar you'll just have to open a second window for your drag-and-drop moves. Another mild annoyance in Thunar is the lack of "spring loaded" folders. That is, when you drag something onto a folder in Thunar, the folder does not automatically open the way it would in, well, pretty much every other file manager on the planet. Still, despite those two issues, Thunar makes a capable Nautilus replacement.
Part of the reason for Xfce's reputation as a lightweight desktop environment is the very minimalist applications that it bundles. Unlike GNOME and KDE which ship with some very sophisticated apps for word processing, photo organizing and music playback, Xfce tends to offer very basic apps with limited features.
For example the stock text editor in Xfce – known as Leafpad – is much closer to a very barebones editor like Windows' Notepad than the more feature-rich and customisable gEdit package that ships with GNOME. Similarly the customisations options for the terminal emulator in Xfce pale next to what GNOME offers.