Apple will replace strained MagSafe cords, even if they are out of warranty, to settle a lawsuit brought against the fruity tech titan.
Apple declared as such on its site today, bringing peace to the troubled minds of punters whose MacBooks shipped with the original T-style MagSafe adapters that are infamously prone to fraying.
Customers have until 21 March 2012 to make a cash claim, or until 31 December 2012 for a replacement. All buyers of Apple products that use the adapters in the US have received a letter informing them of the exchange programme as a result of of a class-action lawsuit that argued that the 60W or 85W MagSafe MPM-1 power adapter was defective.
Apple maintains that the cord is not defective but agreed to the settlement anyway.
To get a replacement cable, take your computer and strained cable to an Apple Store or an official Cupertino partner. Signs of accidental damage will nix your claim. Apple specifies just what they will accept as Strain Relief Damage:
Strain Relief Damage means fraying, melting, straining, sparking, weakening, discoloration, bubbling, overheating and/or separation of the Adapter's strain reliefs.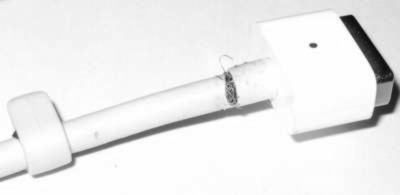 Apple MacBook power cord chaffing hell
Apple introduced the MagSafe connectors on MacBooks in 2006 to solve the common problem of computers being wrecked by people tripping over the power cord. The magnetically attached cords pull off the machines when tugged, saving the computer's socket from damage or the whole thing from crashing onto the floor. Current MacBooks have an "L" style Magsafe adapter, which is less prone to the fraying problems that the original "T" design suffered.
We have got in contact with Apple UK to ask whether this will affect UK customers. We'll let you know, provided our request didn't go straight into the bin. ®