This article is more than 1 year old
Army to deploy jumping robots in Afghanistan
Sand Flea machine can leap 24 foot walls
The US Army will be testing a new type of reconnaissance robot designed to jump over walls and through windows, without putting soldiers in the line of fire.
Dubbed the Sand Flea, the four wheeled device is about the size of a shoebox and weighs roughly ten pounds, and is capable of jumping up to 24 feet. The robot uses a piston built into its base, powered by an unspecified fuel oxidizer, to get airborne and can be aimed by changing the tilt angle and direction of thrust.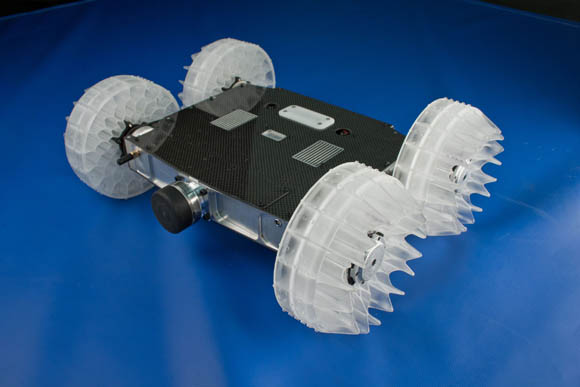 The Sand Flea aims high
"In the form we're currently building it does correct itself to land on the wheels as much as possible," Jon Salton, distinguished member of the technical staff at Sandia National Laboratories, told The Register. "If it lands upside down you can drive it, but you can also use the tilting mechanism to get it the right way up."
Robot reconnaissance is nothing new, but the Afghanistan theater poses particular problems. Many homes in the country are built with a high perimeter wall for security, and checking each compound is both tiring and very dangerous. The army has been using smaller, hand-deployed "throwbots," but these have a limited range and can put the solder deploying them in the firing line.
The Sand Flea can instead be driven by a soldier with a laptop or handheld device, aimed and fired over a wall or through a window, and then driven around the target while the on-board camera scans the area for hostiles. Two robots are currently being assembled for deployment in the war zone, and another eight are in the construction phase.
One of the problems with designing the Sand Flea was impact damage, Saltron explained. The thrust up into the air is relatively easy to build for, but landing causes major mechanical stresses. The Sand Flea's wheels have been designed so that they are as light as possible, to minimize the landing weight, while cushioning the impact as far as possible. Shock absorbers are also used inside the device to protect the electronics.
The Sand Flea is part of a growing recognition that smaller, custom-designed robotics are the way forward. While it is certainly possible to build bipedal robots, there is usually no need to, since there are better designs for a robot than simply mimicking the human or animal world.
"In general, at least in my opinion, smaller scale robots are going to continue to be the answer," Saltron explained. "In robotics there's a tendency among some to be too anthropomorphic. The whole realm of smaller robots will see the biggest growth." ®