Dutch scientists have reported building a car that's a single molecule wide and is powered by electrons.
The car is built out of a single molecule for the body, with four paddle-shaped "wheels" at the corners. Then electrons were applied by moving the tip of a scanning tunneling microscope close to the device, causing the wheels to be rotated 180 degrees and move the car forward, albeit only by six billionths of a meter after ten electron charges (video here).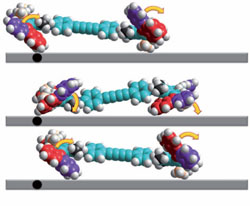 Don't give up the Ferrari
"Scanning tunneling microscopy confirms that activation of the conformational changes of the rotors through inelastic electron tunneling propels the molecule unidirectionally across a Cu(111) surface," the research team in their report, which was published in Nature.
"The system can be adapted to follow either linear or random surface trajectories or to remain stationary, by tuning the chirality of the individual motor units. Our design provides a starting point for the exploration of more sophisticated molecular mechanical systems with directionally controlled motion."
Before nanomachine enthusiasts get excited, there is a very long way to go before this has any real-world applications. The entire unit containing the car had to be cooled to seven kelvins (-266 °C) and in a near vacuum for the systems to work, and it is still a long way from a useful application.
In the long term it's hoped that systems like this could be used to deliver specific materials automatically, either as part of building a larger object or possibly for medical purposes, to send specific medicines to internal locations. ®