NASA spills last details of Mars space truck trip
Skycrane landing, mountain climbing, nail biting
NASA Mars Science Laboratory is buttoned up into its fairing atop its Atlas booster, ready for liftoff on November 25 with touchdown scheduled for August of next year – a reentry and landing that will have NASA space boffins biting their nails.
"Any entry, descent, and landing on Mars is a place where you take pause and bite your nails a little bit," said MSL project manager Pete Theisinger at a NASA press conference on Thursday. "It's not a risk-free environment."
The main nail-biting aspect of the landing will be that it will not be done using the air-bag cushioning scheme perfected in previous Mars missions – the Pathfinder mission with its Sojourner rover, and the the Mars Exploration Rovers Spirit and Opportunity of 2003.
NASA's Phoenix lander used a no-airbag landing system, but it was far less complex – and risky – than the MSL, in that it had no rover to deliver.
The MSL rover, Curiosity, is far larger than previous Mars rovers, and will be delivered to its landing site in the Gale Crater by a thrust-based lander from which it will be lowered and placed on the Martian surface by what NASA refers to as a "skycrane".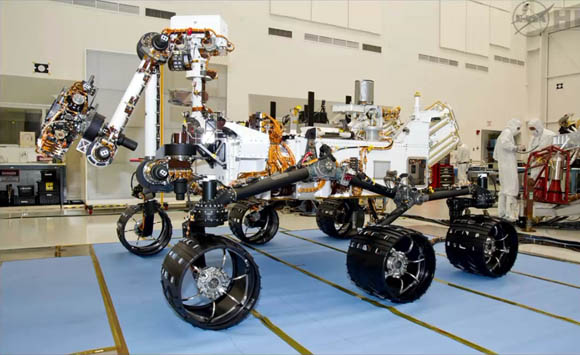 The Mars Science Laboratory's rolling home: the Curiosity rover (click to enlarge)
Curiosity is about twice as long and five times as heavy as previos rovers, weighing in at about 900 kilograms (2,000 lbs.) and standing about six feet tall. Like its predecessors, it has six wheels – but unlike previous rovers, should one wheel's motor fail, it will be able to be set to freewheel, and thus not need to be dragged along as was the failed wheel on Spirit, which was stuck for three years.
Creating an airbag landing system for Curiosity was not an option. "When the agency decided the objectives for this mission and the suite of instruments that would be required to perform the science, and we saw that we had to develop a very large rover," said Theisinger, "it was very clear that that was beyond the scale of airbags to be able to land successfully."
And so NASA decided to go with a propulsive lander. "If you think about it," Theisinger continued, "there's only two ways to land a rover propulsively on the planet: that's to put the rover on top of the propulsion system or put the rover under the propulsive system."
If the rover sat on top of the propulsion system, there's an obvious problem: how to get a 900 kilogram rover off the top of the system and down to the surface. "That was a daunting, daunting thing to do," Theisinger said.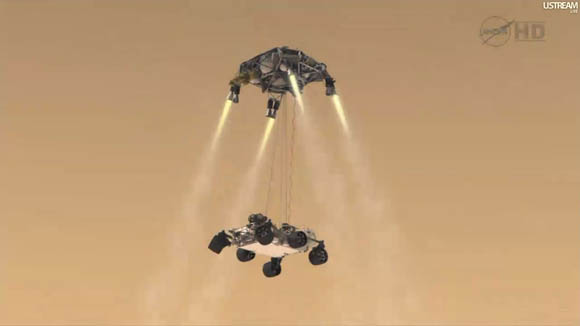 Curiosity will be lowered to the Martian surface using a skycrane attached to a propulsion system (click to enlarge)
He also noted that the MSL already has built-in landing gear: Curiosity's six wheels. "So the challenge is simply – and I shouldn't say simply – is to put it there softly enough," he said.
Hence the skycrane. "We went to a lot of non-NASA control specialists – the people who actually fly helicopter skycranes, we got them in the game – to talk about not only was this an achievable design system, but whether or not we could put together a test program that would verify it adequately enough."