The entire history of Mars in one mountain
"Probably the entire early history of Mars is here for us," Vasavada said. The goal is to sample and lower levels, then drive up the mountain.
One tremendous advantage that Curiosity has over earlier rovers – in addition to its size and more-sophisticated instrumentation – is its cooperative relationship with the Mars Reconnaisance Orbiter, which is able to do 30-centimeter photography of the surface, both guiding Curiosity to interesting sampling sites and determining promising routes for it to follow to and up the mountain.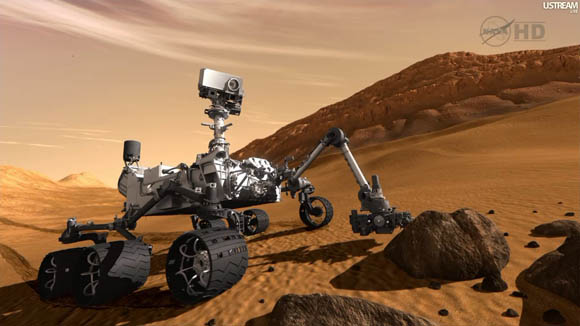 Curiosity will traverse the Gale crater, then climb its three-mile-high central mountain (click to enlarge)
Curiosity's mission is scheduled to last two years, but all of its equipment, Theisinger said, has been tested to "three times its normal life," and there are no life-limiting consumables onboard – its nuclear power source will last for many years – and he says that the rover is both less susceptible to dust and better able to handle winter than the Mars Exploration Rovers.
With all its capabilities, Curiosity is not on a mission to determine if there's life on Mars, but rather to examine if the conditions are conducive to life, and to gather information that will support efforts to eventually land humans on the Red Planet.
"It's important to know that this mission has the purpose of setting us up for the day when we'll go to Mars and do the life-detection experiments," Vasavada said. "It turns out that those are pretty hard to do, and you actually need to know a lot about Mars to understand where to go to do those experiments."
MSL will provide information about habitable environments, but its follow-on missions – such as the joint NASA–European Space Agency ExoMars rover planned for 2018 – will explore those environments after they have been identified.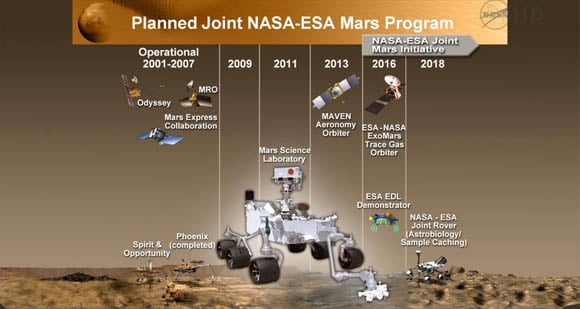 NASA's Martian exploits each build upon data collected by previous probes, orbiters, and rovers (click to enlarge)
Although that NASA-ESA collaboration may be hobbled by budget constraints, NASA's Mars Project Director Doug McCuistion said that MSL and Curiosity are fully funded.
"MSL is an incredibility important flagship mission for this agency," he said. "It's as important to this agency – personal opinion, a little biased, maybe – as Hubble. The funding for MSL is stable."
Even if budget-cutters should try to pull the plug, McCuistion said, the money for MSL has already been set aside. "If there are funding reductions in the 2012 budget once it gets passed by Congress – and in the current budget uncertainties, who knows. But if there are, the MSL operations funding is safe." ®
Bootnote
Tuesday's NASA event came one day after Russia's Phobos-Grunt Mars expedition came a cropper. When asked if NASA were helping the Russian space agency jumpstart their balky probe, McCuistion said, diplomatically: "We have offered assistance, and if they need it, we will provide [it] to the best of our ability with our space communications network."
Similar topics