This article is more than 1 year old
Nokia Lumia 800
Finn Win phone comes out fighting
Design elements
The problem with Windows Phone, at this stage in its life, is that it lacks both features and tweaking options. Right now it's somewhere between iOS 2 (2008) and iOS 3 (2009). I quickly became irritated with the "live" tiles, they were far more "alive" than they needed to be: the non-stop transitions are a gimmick. But there's no way to turn these animations off.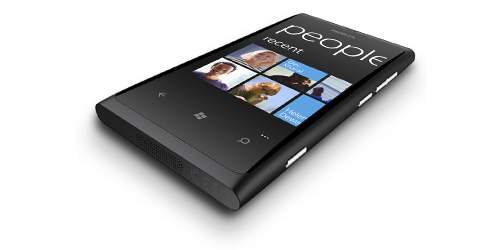 The base of the handset is home to the speaker grille
Windows Phone is also going to need a richer shell than the one offered today: a dual-list design of Tiles one one side, and a long, vertical list of apps on the other. So the platform needs to gain not only major, mature features, such as tethering, but also needs more customization options.
The Lumia 800 is on the large side, but thin, and is fashioned from a single shell of non-sticky matte plastic. It doesn't attract fingerprints, as most glossy plastic cases do. But it isn't the most comfortable device you'll ever shove in your pocket, due to the strange decision to give it sharp right-angled corners. Different, yes - comfortable, no.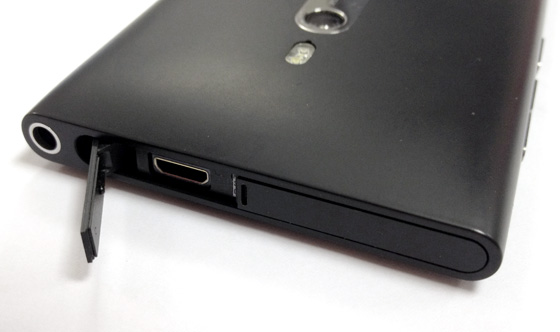 The micro USB port flap seems unlikely to last the life of the handset
Perhaps you can live with that – if you keep your phone in a manbag or handbag, away from the body. But less excusable is the decision to hide the micro USB port needed to charge the device under a fiddly door. Since Nokia has not included its traditional pin charger port, this door will need to be opened and shut every day. Which doesn't inspire confidence.
In addition, the phone frequently gave me a "Goodbye" while accessing the door – even though it wasn't really going anywhere, and remained fully operational. It's like Knock Down Ginger in reverse. I wondered how either the sharp corners, or the doorflap, got through the approval process. We may guess that the design was considered striking, so looks were considered more important than feel or convenience.