Logitech Wireless Touchpad
Apple-style multi-touch on a PC, anyone?
Accessory of the Week Most Wintel laptops now support a limited range of multi-touch gestures on their trackpads, such as the two-finger swipe to scroll up or down through long documents and web pages. However, Logitech's new Wireless Touchpad is the first device that I've come across that attempts to offer PC users the same range of multi-touch features provided by Apple's Magic Trackpad or its MacBook trackpads.
The Wireless Touchpad is a solidly built 5in square slab of black plastic, although the area that actually responds to your finger movements is a smaller 3.8in square outlined on the surface of the pad by a set of four little corner markers.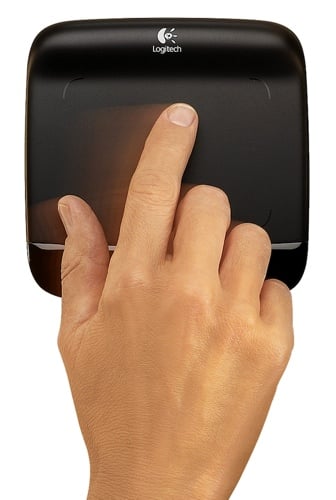 Like a conventional trackpad, the Wireless Touchpad also has two large buttons on its front edge for clicking and right-clicking.
I was expecting the Wireless Touchpad to use Bluetooth, but it actually comes with its own 2.4GHz wireless USB adaptor. The adaptor draws power from the USB port, while the Touchpad requires two AA batteries that should last for about four months.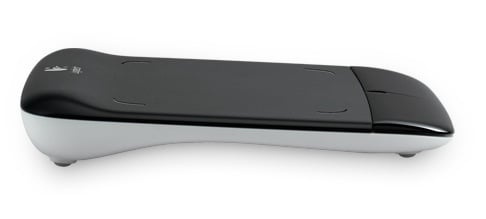 There's no software required to use the Wireless Touchpad, although you can download Logitech's SetPoint software, which provides some simple customisation options. Most people will be familiar with the two-finger swipe for scrolling, while three fingers allow you to step forward and back through a series of web pages or photos.
Swiping upwards with four-fingers is the equivalent of using Alt-Tab to switch between open applications, while swiping down minimises all open windows and displays the desktop. Swiping four fingers sideways on a Windows 7 machine will activate the Windows Snap feature, but doesn't do anything on older machines.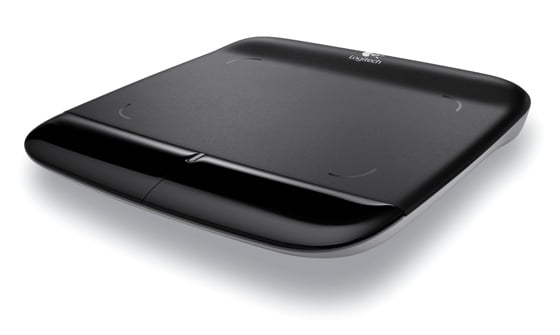 Pinch-to-zoom isn't listed as a supported gesture in Logitech's manual, but I decided to try it anyway. Unfortunately, the gesture works very erratically, sometimes not responding at all and at other times zooming in or out in jerky, unpredictable leaps.
Those multi-finger gestures might sound complicated, but they quickly start to feel quite natural, and I'd say that the Wireless Touchpad is worth getting if you want to step up from using an ordinary mouse with a desktop PC.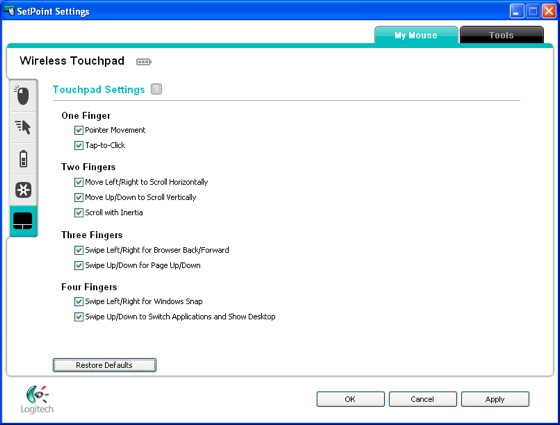 Logitech's SetPoint software is optional
However, it lacks the slick usability of the Apple product, and I'm not sure I'd spend the money to use it with a laptop that already has its own trackpad. ®
Reg Hardware chooses its Accessory of the Week every Friday. Got one in mind you want us to consider? Please let us know
More Accessory of the Week Winners

Belkin
Chef Stand
and Stylus
Surc remote
control case
LG LSM-100
mouse
scanner
Belkin
Conserve
Logitech
AV Stand

Logitech Wireless Touchpad
An improvement on a conventional mouse, but its lacks the polish of Apple's Magic Trackpad.