This article is more than 1 year old
Randy dwarf galaxies are making billions of baby stars
Hubble pervs over distant prolific systems
The Hubble telescope has picked out distant dwarf galaxies that are churning out stars at an enormous rate compared to the Milky Way.
The 18 tiny galaxies – pictured below – are about a hundred times smaller than our galaxy, but they're birthing stars so furiously that they will see the number of stellar bodies double in just 10 million years. It has taken poor old Milky Way a thousand times longer to double its star population.
"The galaxies have been there all along, but up until recently astronomers have been able only to survey tiny patches of sky at the sensitivities necessary to detect them," said Arjen van der Wel of the Max Planck Institute for Astronomy in Heidelberg. "We weren't looking specifically for these galaxies, but they stood out because of their unusual colours."
Van der Wel is lead author of a paper on the results being published online on 14 November in The Astrophysical Journal.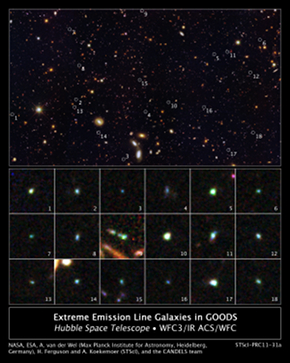 Just look at the little blighters (click to enlarge)
The observations were part of the Cosmic Assembly Near-infrared Deep Extragalactic Legacy Survey (CANDELS), a three-year study that aims to analyse the most distant galaxies in the universe. CANDELS is the first census of dwarf galaxies at such an early epoch of their existence, according to a NASA statement.
Recent surveys of the closer-to-home dwarf galaxies, which have a few billion stars and orbit the much larger Milky Way, have shown that their star formation is a slow process that takes billions of years. However the similarly sized distant systems are popping out stars at a rapid rate, forcing boffins to rethink what they know about dwarf galaxy evolution.
The observations suggest that the newly discovered galaxies were common around nine billion years ago, but it's a mystery why they are creating stars so fast. ®