This article is more than 1 year old
World's first biz computer was British – and sold teacakes
60th anniversary of the LEO is today
Pictures Forget BlackBerry and Bill Gates: the first business computer in the world was British and was used to help sort the logistics for bakery distribution.
Tea merchants, bakers and Wimpy burger founder J Lyons and Co instituted the enormous programmable computer – LEO – in its Hammersmith office to help with deliveries of perishables including cakes way back in 1951. Today is LEO's 60th anniversary.
You can read about LEO's driving force, David Caminer, in one of Reg Hardware's Unsung Heroes of Tech articles.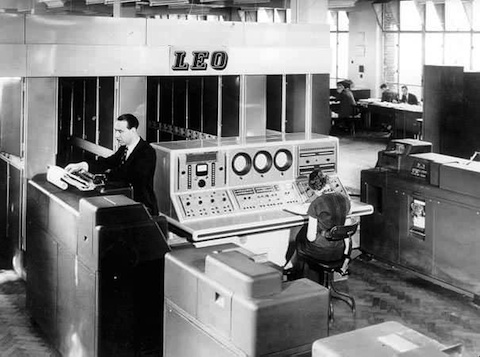 LEO II, showing the tabulator and the control desk
The beast of a machine comprised 5,936 valves and 64 mercury memory tubes. Each memory tube was 5ft long and weighed half a ton. It took up 5,000ft2 (464m2) of floor space and required 30,000 watts of energy.
Valves would regularly fail, with up to about 50 a week being replaced at one point, said the London School of Economics.
The user interface wasn't particularly developed: LEO was controlled from a control panel, with several oscilloscopes set up to monitor contents of the storage area. In a method vaguely reminiscent of some IT practices today, the early computer programmers used to listen to the computer's "music" to see what it was up to:
The machine also had a speaker installed and programmers could hear the sounds generated as LEO performed certain calculations. The programmers became so accustomed to certain frequency variations, that they could detect something was wrong with a program by the sounds produced through the speaker. The programmers also used this speaker arrangement to generate some of the first "computer music".
"Listening to the computer's music" LEO II