The new touchy-feely Doctor Who trend: Worrying
Timey-wimey cuddling has replaced the Stiff Upper Lip
Too much soppy stuff
1975's Genesis Of The Daleks sees the Fourth Doctor attempting to destroy his most reliably psychotic enemies before they come into existence. Refusing to commit what he sees as genocide, he has to settle for holding them up for a thousand years or so. This is something of a contrast with 1988's Remembrance Of The Daleks, when the Seventh Doctor contrives to completely destroy Dalek homeplanet Skaro with superweapon-in-a-coffin The Hand Of Omega! Uncomfortable or what?
While history hasn't been kind to the actors that followed the inaugural Big Four – there was psychic pain galore involved in the late '80s schedule-poinging, theme tune revamps and Doctors under pressure – they did at least stay faithful to certain important fundamentals. All bets would be off, though, after the 2005 return.
There've been some brain-boggling blinders, without doubt. If only the Ninth Doctor, Christopher Eccleston, had hung around for another series or two. But since the return, the season conclusions seem to have been devised by some unknown compliance-cabal charged with amping up the sap levels.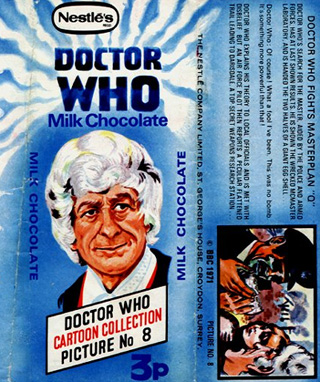 This reached its grisly zenith in 2007's Last Of The Timelords, when an apparently powerless, desiccated Tenth Doctor is granted Christ-powered resurrection by like, everybody on Earth sending him their love-power at the same time through the Master's evil mobile phone network. And if this one-bound-free magic-over-science non-resolution wasn't bad enough, then he actually forgives the Master. (This was perhaps only surpassed by the insanely OTT regeneration of The Tenth Doctor, complete with exploding TARDIS).
You wouldn't have had the First Doctor doing this stuff, or letting the companions – or even the viewers – sort it out. Is this because the ultimate destruction of the Earth/Universe/Time Itself is actually less dramatically satisfying than sentimental side issues, which everyone knows the kids like more than explosions, infinity and monsters?
Well, maybe they don't.
True, things have improved plenty with the Eleventh Doctor, though regarding the River Song story arc, how exactly did her marrying/snogging the Doctor restore the universe to its pre-fragmentary state?
The lunchbox-owning target audience isn't complaining. Yet.
But they might if all these anti-canonical events, fuelled by unnecessary guest spots and catch-all "timey-wimey" fixes, become more endemic, and Doctor Who undergoes final inspirational heat death. If that happens, imagine Sarah Jane's stiff-upper-lip departure in 1976 adventure The Hand Of Fear, newly soundtracked by Coldplay, forever.
"Tears, Sarah Jane?" ®
Ian Harrison also writes about pop music and will miss Ceefax.