This article is more than 1 year old
Kindle Fire ignites blazing developer interest
May 'resurrect the entire Android tablet category'
Amazon's Kindle Fire has built up quite a head of steam among gadget fans in anticipation of its Tuesday release – and now a new survey shows that that developers are feeling the warmth, as well.
"What we asked in our survey was, 'Okay, Mr. Developer, you've been looking at tablets for the last year, what do you make of the Kindle Fire?'," Scott Schwarzhoff, marketing veep at developer toolmaker Appcelerator, which conducted the survey along with IDC, told The Reg.
The survey queried 2,160 Appcelerator developers, and discovered – even though the Kindle Fire has not yet been released – that it came in number two among Android developers globally, behind the Samsung Galaxy Tab, and ranked number one in North America.
To be fair, Amazon's tablet barely edged out Samsung's offering in North America: 49 per cent of developers are "very interested" in creating apps for the Kindle Fire, and 48 per cent expressed similar interest in developing for the Galaxy Tab.
Schwarzhoff says that developer interest in the Kindle Fire excites a level of interest similar to that which the iPad enjoyed before its release. But as we've said before, before the iPad was released, the tablet-as-consumer-device concept hadn't yet been proven. Now it has.
But Schwarzhoff believes that the Kindle Fire might rejuvenate – or, possibly more correctly, "juvenate" – the Android tablet market.
"The picture now," he says, "is that the Kindle Fire could be the singular device that, if you will, resurrects the entire Android tablet category."
When the survey asked developers what it was about the Kindle Fire that made them interested in developing for the platform, the answer was unsurprising: price.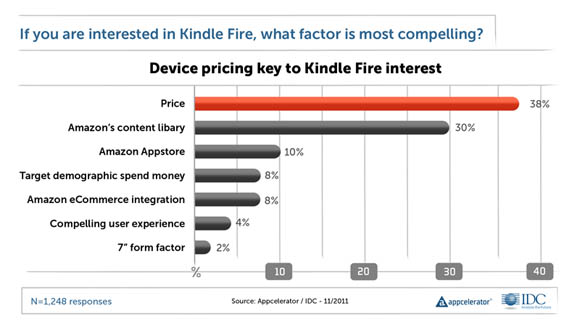 Developers expect the $199 price of the Kindle Fire to entice buyers (click to enlarge)
Reasonably close behind price as the "most compelling" factor of the Kindle Fire attracting developers is Amazon's enormous content library. Presumably, if an Amazon tablet owner is conditioned to spend on consumable content, they'll also be likely to shell out a few bucks for casual games, apps, utilities, and other content.
Although Amazon receives good news in the Appcelerator/IDC survey, RIM does not fare as well. When the quarterly survey was conducted in March 2010, just under 45 per cent of developers were "very interested" in developing for the BlackBerry phone. In this most recent survey, that percentage had sunk to 21 per cent.
Those developers, by the way, did not switch over to developing for the BlackBerry PlayBook. Interest in developing for the flailing fondleslab peaked in January of this year at around 37 per cent, while in the new survey it has sunk to 13 per cent.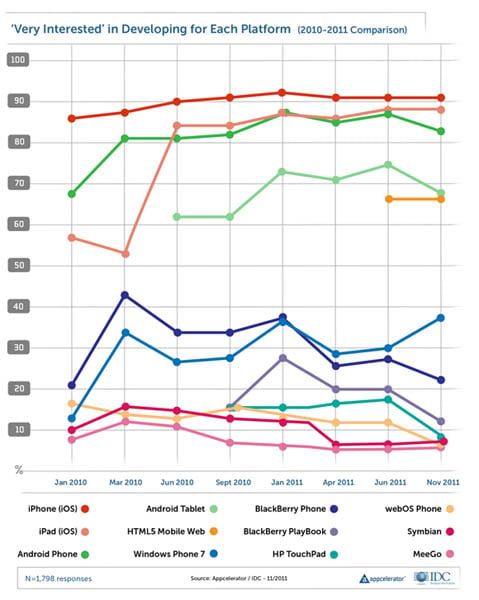 Imagine what the Android tablet interest would be without the Kindle Fire (click to enlarge)
But the news is good for Microsoft fans. "We're seeing a sharp uptick in interest for Windows Phone," Schwarzhoff says, pointing out that just as RIM is sinking, Windows Phone 7 is rising.
The reason for the increased interest in Windows Phone 7 comes from Finland. "We asked 'Why are you interested in Windows Phone?", says Schwarzhoff, "and what's interesting there is a lot of it has to do with this Nokia partnership."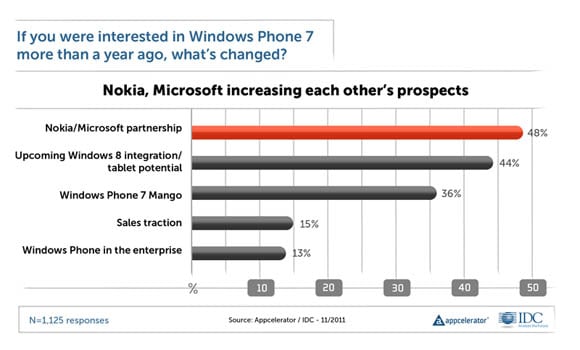 Mobile developers have faith in the Nokia/Microsoft partnership (click to enlarge)
Although the global sentiment is that the Nokia/Microsoft partnership most affects developers' rise in interest in Windows phone, Schwarzhoff noted that the feeling is strongest in Europe and Asia. "You're probably going to see Windows Phone take hold in Europe quite a bit faster than here in the United States," he told us.
The near-term expectations among mobile developers for the success of the Kindle Fire are followed by longer-term expectations for the success of Microsoft's Windows Phone 7 and its planned Windows 8.
Appcelerator doesn't currently support Windows Phone 7 with its developer tools, but Schwarzhoff told us that "Windows, for us, is a question of 'when', not 'if'."
The unknown factors, he says, is how Microsoft will approach the tablet market. "Microsoft has given us indications that, well, 'A tablet is just a PC'. And I think we all scratch our heads on that, but that's what they've publicly said."
Not that Microsoft can't or won't change that strategy. "They're not above doing the right thing if it's going to be necessary to compete," Schwarzhoff says. ®