SGI to put Intel's Xeon E5s in ICE X systems
Opteron 6200s put on ice
SC11 Supercomputer maker Silicon Graphics has been chomping at the bit for Intel to get its "Sandy Bridge-EP" Xeon E5 servers to market. And rather than wait until early next year to launch its new ICE X parallel machines to market, and give rival Cray and its Opteron 6200-based XE6 and XK6 supers all the headlines at the SC11 supercomputing conference in Seattle this week, SGI decided to preview the dense-pack ICE X machines that will employ the Xeon E5s and have actually begun shipping to selected customers.
When it became apparent six years ago that the Itanium-based shared memory systems that the original SGI sold were not appealing to all customers, that company launched the Altix ICE line of clusters that share some of the same packaging and cooling technologies of the Altix 4700 shared memory systems but which are plain vanilla clusters in terms of their interconnect.
Fast-forward to 2011, and the new SGI, the result of the merger of Rackable Systems and the old SGI, is putting its fifth generation of Altix ICE machines, nicknamed "Carlsbad 3" or "CB3" internally and now sold under the ICE X brand. The ICE X machines are blade servers and considerably more compute density than prior machines. In addition to traditional air cooling, SGI has crafted on-socket water cooling for the Xeon E5 processors to provide more efficient cooling and faster clock speeds as well as allowing for customers to use hotter and cheaper standard 1.5 volt DDR3 main memory instead of 1.35 volt low-power memory. (You can, of course, use low-volt memory if you are coping with intense thermals in conjunction with the water-cooled heat sinks.)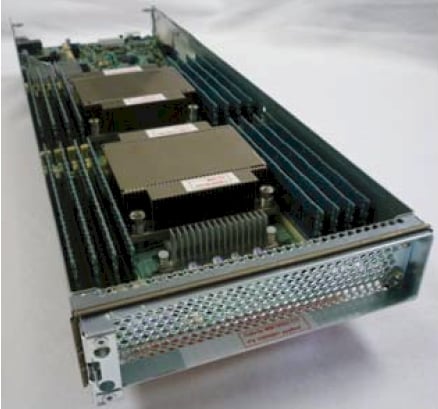 SGI's "Dakota" ICE X blade server
At the heart of the ICE X machine are two a half-width, two-socket Xeon E5 motherboards which are designed by SGI and made by unnamed ODMs (most likely in Taiwan, but SGI is not saying). These server boards also include 56Gb/sec, or Fourteen Data Rate (FDR) mezzanine cards, which are based on the ConnectX-3 adapters from Mellanox Technologies. These mezz cards reach out to integrated switch blades that fit into the center of the ICE X chassis, which are based on the SwitchX ASICs from Mellanox.
The first blade is known as "Dakota" internally and is called the IP-113 in the SGI product catalog. The Dakota blade has two Xeon E5 sockets and can use the expected 130 watt parts. The Xeon E5 has on-chip memory and PCI-Express 3.0 peripheral controllers and hooks into the "Patsburg" chipset to offer different ranges of peripherals and bandwidth. (El Reg exclusively detailed the feeds and speeds of the Intel "Romley" server platform back in May.) The Dakota blade has eight memory slots per socket, and has room for two 2.5-inch SATA drives, which can be disk or solid state units, two PCI-Express 3.0 peripheral slots (one from each socket), one baseboard management controller (BMC), and one mezzanine board for network connectivity. The Dakota blade uses traditional metal heat sinks and air cooling and is expected to burn 400 watts on normal HPC loading.
Here's what the Dakota blade looks like:
The prior Altix ICE 8400 blades had InfiniBand ports soldered onto the system boards, but Paul Kinyon, director of product marketing for scale-out servers at SGI, says that customers were telling SGI that they wanted options, and so the company shifted to mezz cards than snap onto the motherboard. With these options, SGI can support single-rail or dual-rail FDR InfiniBand networks. The mezz cards include single-port, dual-port with one x8 slot, and a funky dual single-port with two x8 slots. The latter card will let a dual-rail InfiniBand network run at full speed off the Dakota blade but only take up one mezz card slot.