This article is more than 1 year old
Top 500 Supers: Détente in East, West petaflops race
An arsenal of big iron deploying soon
SC11 For the first time since the Top 500 rankings of supercomputers was started back in 1993, the top 10 machines on the list are ranked in exactly the same order as they were in the list six months ago. But the HPC racket is set to explode, with multi-petaflops machines in the works using new processors and GPU coprocessors.
You can blame some of the détente on the arms race going on between the supercomputer labs in the United States and Europe in the West and Japan and China in the East on Intel and Advanced Micro Devices, which are both late bringing their respective Xeon E5 and Opteron 6200 processors to market. Yeah, yeah, El Reg knows that official launch dates were never divulged so you can't technically call them late, but let's face it, chipheads: Everyone, including your server partners, wanted these chips out the door earlier in the third quarter.
If these Xeon E5 and Opteron 6200 chips had got out the door and been put into machines that were in turn accepted by the big supercomputer labs, then the top-heavy part of the Top 500 list would have seen some churn. And maybe even more than one machine above 10 petaflops.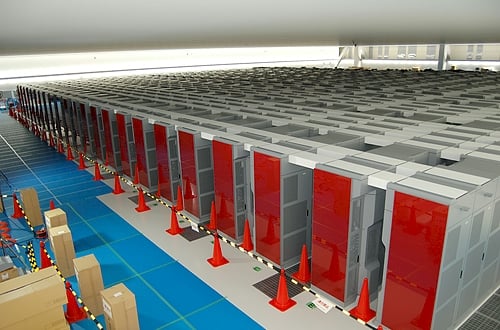 Top of the flops: Fujitsu's Sparc64-based K supercomputer
But, as it stands, there is only one machine in the world that has broken the 10 petaflops barrier running the Linpack Fortran benchmark test, and that is the K super built by Fujitsu for the Japanese government. The K super is a massive beast based on Fujitsu's eight-core Sparc64-VIIIfx processor and a 6D mesh/torus interconnect called "Tofu" (you'd think it would be called Super Noodle or something like that...), and only two weeks ago the Rikagaku Kenkyusho (Riken) research lab in Kobe, Japan, said that it had attained its full capacity of 864 racks, 705,204 cores running at 2GHz, and attaining a peak theoretical throughput of 11.28 petaflops and 10.51 sustained petaflops on the Linpack test. This machine doesn't need no stinking GPUs and does all of its flopping with beefy RISC cores. It has also run out of expansion room, and that is why Fujitsu only a week later has announced its successor, the PrimeHPC FX10.
The FX10 super, unlike K, is meant to be a commercial product rather than a one-off built to test the concept for the Japanese government. The FX10 machine will be based on Fujitsu's own 16-core Sparc64-IXfx processor, which will run at 1.85GHz and deliver 236.5 gigaflops, a little less than twice that of the 128 gigaflops that the Sparc64-VIIIfx chip does.
The PrimeHPC FX10 machine will scale from 4 to 1,024 cabinets, sporting between 384 and 98,304 nodes. Fully loaded, this behemoth will deliver a peak performance of 23.25 petaflops. Based on the list prices Fujitsu announced, such a machine would cost $656m. Even in today's world, that is a crazy amount of money. And at an estimated 23 megawatts, the electric bill for an FX10 machine is going to be a doozy. Fujitsu things it can sell 50 of the PrimeHPC machines over the next three years, but they will not be fully loaded – that's for sure. Unless it can be shown to make Google and Baidu searches faster. The FX10 machines will start shipping in January 2012. (Did you hear that, Oracle?)
The next time the Top 500 list comes around on the guitar, hybrid CPU-GPU machines from Cray as well as PowerPC A2 machines from IBM as well as homegrown massively parallel machines based on MIPS and Alpha derivatives will be jockeying for the top of the flops charts, and K will stay where it is, much as the Earth Simulator massively parallel vector super built by NEC for the Japanese government did a decade ago. (This machine is still ranked number 95 on the list.)
But Fujitsu looks like it is trying to get into the exascale race, and it will be interesting to see the political storm that erupts when and if a US or European lab suddenly decides it wants an FX10 machine instead of some more indigenous massively parallel beast. It would be interesting to see NEC and Hitachi try to come back to the K party with vector engines of some sort after they left Fujitsu holding the K super bag back in May 2009 when the Great Recession was smashing their financials.