Cuba accuses US of sneaky Wi-Fi imperialism
America blocks, and yet pays for, Cuban surfing
---
The Cuban government has accused America of supporting the illicit Wi-Fi networks which are proliferating in the country, despite Americans also preventing proper internet access reaching the island.
The official government mouthpiece, Granma*, translated by the AFP, reports the arrest of several unnamed individuals who have apparently been installing wireless networks without legal authorisation. The paper also accuses the United States of funding the installations, and providing the equipment too.
Internet access is tightly controlled in Cuba, not least 'cos the ongoing US embargo prevents the country tapping into the undersea cables which snake past the island. Satellite access is getting cheaper, but is still restricted, and controlled, by the government, so locals often resort to illicit installations which are advertised freely to their relatives in Florida.
Granma reckons it has exposed CIA funding of satellite installations, reporting that the dishes are disguised as surf boards and that the CIA has also provided Wi-Fi hotspots so connections can be shared with the neighbours.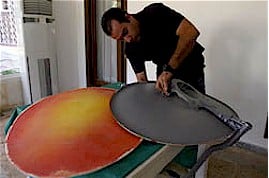 Image from a "recreation" of a CIA operation staged by Grana
The government view, espoused by the paper, is that "Establishing illegal networks in Cuba is an attempt to form a parallel communications system on the margin of national institutions and authorities in order to incite people to rebel", though it also argues that illicit users just trying to dodge the internet access tax which the government likens to our own TV licensing scheme: "some countries charge for the television service that is offered free of charge to our people ... Here, it is a regulation that all satellite services must have a license," says the director of Cuba's Control and Supervision Agency.
The US government is not adverse to seeding a little discontent, and there are certainly plenty of people in Florida who'd chip in a few quid to upset the Cuban government. But if it's true then there's a wonderful irony in American's spending money imposing a trade ban which prevents Cuba from getting decent internet access, while at the same time subsidising satellite access for individual Cubans.
Perhaps the CIA is hoping that the inevitable latency inherent in satellite access will drive the Cubans to democracy. ®
Bootnote
The paper also contains the weekly column "Reflections of Fidel", as well as a handy TV guide.