This article is more than 1 year old
My home is bugged ... with temp sensors to save me cash
Monitoring benefits of insulation
Part 1 In the past, I've eulogised on the joy of metering and tuning my house, being money and carbon-neutral for gas and electricity at home, and my homegrown solar power.
This time I scout out new tech, describe upgrading the insulation in my boy's bedroom with aerogel and how I'm monitoring its performance with spiffy iButtons, and indeed keeping tabs on the whole house's performance with the free iMeasure website.
Energy solutions expo
Being a geek I want to know what goodies are on the horizon, so I popped into the Energy Solutions Expo at London's Olympia.
I was a bit unhappy at what I took to be a few large stands selling snake oil, but other than that one pleasing feature was the vast range of LED lighting in really huge sizes on show. When I started messing with them as an electronics hobbyist, LEDs were tiny feeble red things, not drop-in replacements for 400W of industrial lighting at a pop! A bit big for the average house.
There was a fair range of domestic-scale LED lighting on show too, as standard bulb-shape replacements for bayonet or screw-base incandescents (which are more robust, smaller and easier to fit than CFL low-energy bulbs) but also other fittings such as the MR16 (12V) and GU10 (240V) halogen spotlight style.
I took a couple of samples to review from istoriaLED, both 12V GU10 bulbs with an A+ energy rating and a lm/W (lumens per Watt, the most straightforward measure of lighting efficiency) of about 78, or 140 if you accept their "effective lumens" of 630 for the 4.5W in. One is "warm" (2,700K light temperature) and the other "cool" (6,000K).
The cool one certainly competes with my favourite ALTLED Aurora V3s and V5 (7W, 720lm), with the warm one significantly dimmer to my eye, more than I'd expect. (The 'warm' versions usually a few percent less efficient because they use a phosphor to convert some of the blue light to yellow, with some attendant losses.)
I'm running these off my unregulated off-grid 12V system, so I may not be experiencing them quite at their best, but I think that they are pretty good.
78lm/W is better than CFL efficiency, so upgrading a house's halogens to these is a real energy saver and avoids climbing on ladders every 5 minutes replacing blown ones: they may outlive you unless you're a spring chicken.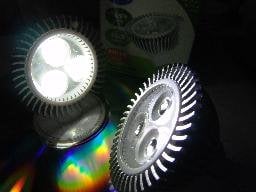 iStoria cold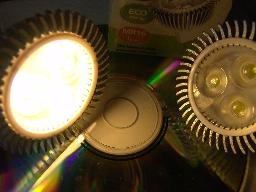 iStoria warm
Needs more aerogel
It's possible to do without any space or central heating at all in a sufficiently well-insulated and leak-proof home, such as a Passivhaus.
Such a set up would zap 75 per cent of our home gas consumption if we could do it, and while it's unlikely that my 40-odd-year-old timber-frame ex-council house can ever achieve that acme of performance, I just did another round aerogel of dry lining this month, which should more than bring the external wall performance up to the latest building regulations and reducing heat loss by a factor of three.
In this case I used slightly thinner aerogel (30mm, compared to 40mm in the living room downstairs) since the bedrooms are heated less of the time and to a lower temperature, and because space is at particular premium in the small room at barely over 2m in each dimension.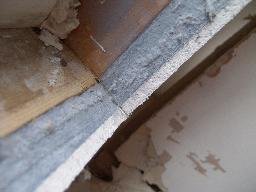 The three layers and blankets of aerogel behind
the magnesium board at the window
I also tried a different brand, Magnaline this time rather than Spacetherm, when faced with magnesium board. The builders said that the Magnaline's aerogel blanket was somewhat less inclined to snag drills and saws than Spacetherm. However, the lack of 'give' in the magnesium board made screws inclined to 'pop' and impossible to achieve a flush finish, which made keeping the surface level harder. All of which required extra plaster over the top to level out, taking away some of the planned space saving. But we still really only lost about an inch on one wall all told.
If you're really short of space then aerogel can get you to current building regs (a U-value of 0.3W/m2K for an exterior wall) in that inch or so, or for something like 1/10th the cost an alternative such as Kingspan K17 or K18 will do the same insulation in about twice the thickness, and you may be able to DIY it.
A major enemy of thermal performance is called thermal bridging, the equivalent of a short-circuit in electronics, letting all the heat out around your expensive insulation via a shortcut.
To avoid that, and because it took only slightly more insulation material, we cut through the partition wall into the next bedroom to slide the aerogel in behind it, thus avoiding the heat leaking out through the edge of the partition to the outside skin, and getting the first wall of the other child's bedroom done ready for some possible follow-up works next year.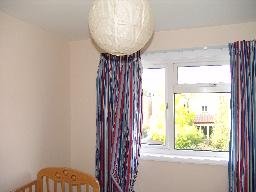 The finished wall, painted and with curtains up, in the small bedroom
Note that such energy-saving works potentially attract a reduced VAT rate of five percent on the hardware and labour, providing you keep them separate from any unrelated works going on at the same time - so get them invoiced separately.