Britain's Harrier jump-jets reprieved to fly and fight again
With the US Marines, though. They're not stupid
---
Blighty's famous force of Harrier jump-jets, controversially disposed of during last year's defence review along with the Royal Navy's aircraft carriers, have been reprieved: the radical vectored-thrust jets, believed by many to have been the best strike planes in Britain's arsenal, will fly (and almost certainly, fight) again.
However they won't do so with British roundels on their sides or British pilots in their cockpits. The mothballed fleet of 74 Harriers, plus the UK's inventory of spare parts, is being bought up lock, stock and barrel by the US Marines.
The US Marines possess a substantial air arm of their own and operate a large fleet of Harriers, with slightly different equipment but structurally the same. They anticipate that the British planes, engines and spares, many of which are in nearly-new condition and have been recently upgraded at significant expense, will allow them to keep flying Harriers into the mid-2020s without difficulty.
"We're taking advantage of all the money the Brits have spent on them. It's like we're buying a car with maybe 15,000 miles on it," Harrier expert Lon Nordeen tells the Navy Times.
The US Marines operate Harriers in a similar fashion to that until recently employed by the Royal Navy, in which the jets take off from a small aircraft carrier without catapults using their swivelling jets to make a very short takeoff run. Having flown a mission and burned fuel (and perhaps released weapons), the Harrier becomes light enough to set down vertically, supported entirely by jet thrust.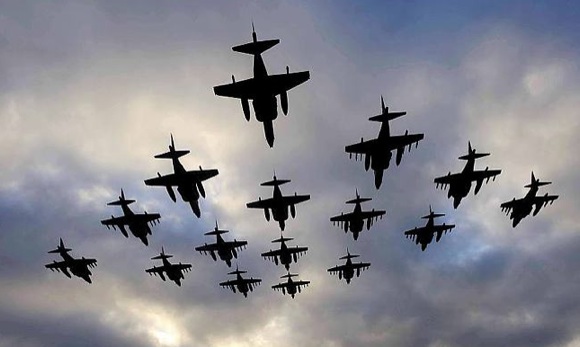 Harriers headed for the States, where the Marines are looking for a few good planes.
The Royal Navy now plans to fit at least one of its new big carriers with catapults, and will be using conventional tail-hook jets with these at some point. But the US Marines' small amphibious-assault carriers cannot be converted for catapult operation, and they intend to maintain Short Takeoff and Vertical Landing (STOVL) capability. The only post-Harrier option for this is the B variant of the F-35 Joint Strike Fighter, the world's first ever supersonic stealth jump-jet. The F-35B will be very expensive to buy and operate for a long time, however, and the Marines will be glad to be able to keep flying Harriers well into the 2020s rather than having to buy cripplingly expensive F-35Bs in large numbers early on in the F-35 production run when prices will be high.
In Britain the decision to scrap the Harrier and the RN carriers was hotly criticised, with famous commanders from the Falklands War writing to the papers pointing out the folly of the move. It was suggested that the Harrier - operated by a mixed force of RAF and naval personnel - had been scrapped so that the RAF could preserve its much-loved, very expensive-to-run, manpower intensive but only marginally useful Tornado bomber force intact. It was pointed out that the Tornado, specifically designed to fly well only at a low level, struggles to operate usefully in Afghanistan where even the base runway is at quite a high altitude. Every Tornado takeoff there is a risky gamble as the jet will not lift off until it is going at 184 mph - but it takes almost all of the runway to achieve this.
Every time a Tornado gets airborne, it passes through a point of no return on the runway after which, if there's a problem, there is no room to brake to a halt and the crew must eject and let the plane wreck itself. This has already happened at least once.
Also the Tornado takes much longer to get airborne in response to a call for assistance than a Harrier, and the Harrier fleet boasted higher availability in Afghanistan while requiring smaller numbers of personnel to support it.
Then, after the Harriers and carriers had been scrapped nonetheless (it did not escape notice that the defence review involved two air marshals at the level conferring direct access to the Prime Minister but only one admiral and one general) ... Libya happened, and we were treated to the unedifying spectacle of US Navy, US Marine, French and even Italian jets lifting off from decks just off the coast and hitting targets within minutes while the RAF's Tornados and Eurofighters toiled in across the Mediterranean (or even in many cases all the way from England), wastefully burning up extremely expensive flying hours and requiring extensive use of air-to-air refuelling. Again it did not escape notice that the RAF's new PFI tanker fleet is expected to cost twice what the new RN carriers are ... to hire, not buy.
Comment
So the decision to scrap the Harrier looks like a very foolish one indeed from a British viewpoint. Still, it's an ill wind which blows nobody any good, and plainly the US Marines can't believe their luck. ®