This article is more than 1 year old
Halo: Combat Evolved Anniversary Edition
Bark of the Covenant
Déjà vuvuzela
No matter how many times you've toyed with it, that sandbox still manages to throw up the occasional surprise. Discovering a hidden camouflage perk, taking a slightly different route to flank enemies, capturing and flying a Banshee before the game hands you one – you always feel you're just skimming the surface of an infinite reservoir of possibilities.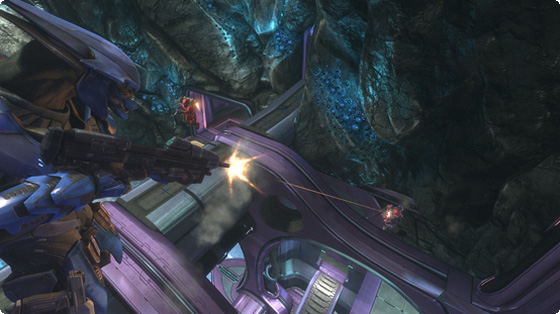 Killer drop
The same is true of enemy AI, which is as delightfully fiendish and unpredictable on the hundredth play as it is on the first. The weaponry is, on the other hand, reassuringly predictable. One of gaming's tautest arsenals, individual weapons provide distinct advantages against specific enemies, from the ludicrously overpowered scoped pistol to my personal favourite, the Needler – its Pavlovian delights all the more lavish thanks to the Reach engine's resplendent explosions.
While the majority of the gameplay still stacks up, Halo's few weaknesses are naturally amplified through the lens of a decade's worth of advancements. A divisive enemy first time around, The Flood's single-minded attack patterns feel woefully repetitive in light of the recent zombie shooters such as Left 4 Dead.
Worse still, the level mirroring as you backtrack from 'The Library' towards 'The Pillar of Autumn' now feels too familiar, enervating the once-epic denouement.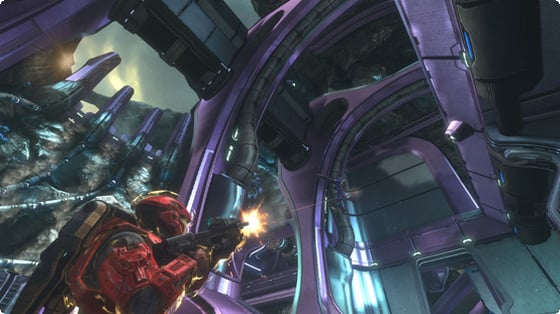 Starting to look up
The sensation of déjà vu extends to multiplayer. Included as a DLC code or available as a separate purchase for Reach owners through Xbox Live, the Anniversary edition brings a new twist to six classic Halo maps through Reach's class-specific loadouts, such as the Armour Lock and Hologram.
The problem is that apart from 'Timberland' – an exclusive from the PC and Mac versions of Combat Evolved – the maps are too small. While there's nothing fundamentally wrong with them, their diminutive size is a poor fit for the new mechanics, so while die-hard fans might revisit those classic maps, the ensuring chaos is likely to curtail their stay.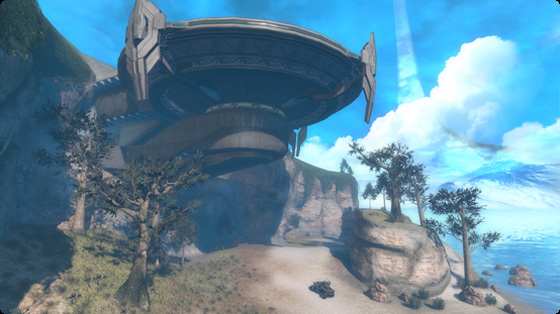 Enterprise cliffside
Verdict
In the current vogue for remastered videogames, Halo Anniversary edition stands apart. Where other developers milk the cash cow with perfunctory 1080p updates, 343 Industries has lovingly restored the original to a fresh glory. Exhibited alongside contemporary shooters, it's minor flaws may more apparent, and the restoration itself perhaps too faithful for some, but the original Halo remains a captivating masterpiece. ®
More Games Reviews

The Elder Scrolls V:
Skyrim
The Adventures
of TinTin
Call of Duty:
Modern Warfare 3
Goldeneye 007
Reloaded
Battlefield 3

Halo: Combat Evolved Anniversary Edition
The magnum opus lovingly restored by the master's apprentice. Available on Xbox 360 only.