Poor old Microsoft. Even Samsung's Bada smartphone OS is more popular than yours.
So the latest figures from market watcher Gartner reveal. In Q3, just under 2.5m Bada smartphones shipped around the globe, it said today.
But only fractionally more than 1.7m handsets with a Microsoft OS shipped during the same period.
It'll surprise no one to learn that Android was pre-loaded on most of the smartphones that shipped during the period: just under 60.5m of them.
World Smartphone Shipments Q3 2011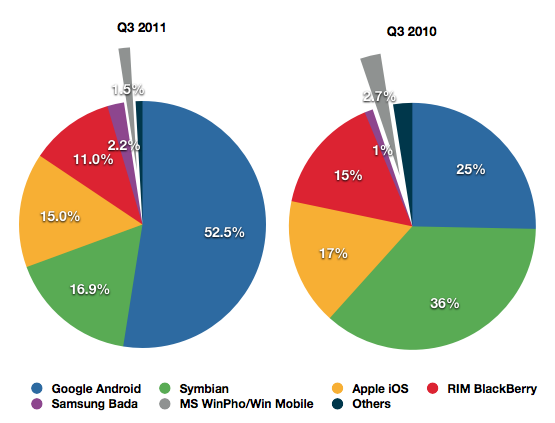 Source: Gartner
Symbian stayed ahead of Apple's iOS. It was alloted second place by Gartner thanks to shipments of 19.5m units - just ahead of the 17.3m iPhones that shipped in the same timeframe.
Should Apple be annoyed? Nah. Gartner also detailed the smartphone business' most profitable players, and Apple is way ahead of the pack. CEO Tim Cook's company will take a staggering 66 per cent of the profit made by the world smartphone industry in 2011.
If it can do that on just 15-18 per cent of the smartphone shipments, it's laughing. Even if Google's OS takes a considerably bigger share of the smartphone market than it already has. And Apple may yet use that profitability to drive down the cost of its handsets to fight for market share if it feels really threatened.
Second-placed Samsung will take just 15.6 per cent of the industry's profits, rather more than the six per cent it took in 2010. Then, Nokia accounted for 10.7 per cent of the profits - this year it will barely register, Gartner's numbers show.
Back to the handsets and their operating systems: RIM came in fourth place - well ahead of fifth-placed Bada and Microsoft at six - with 12.7m shipments. ®