Google 'obstructed' Senate hearing on copyright
See no evil, do no evil
---
Google "obstructed" a bipartisan congressional committee into copyright, claimed Lamar Smith, the head of the House Judiciary Committee in hearings today.
Smith also raised Google's defiance over rogue sites selling controlled substances. Google continued to run keyword auctions on pharmaceutical sites for six years after it was first asked not to in 2003. Only when the FDA mounted a sting operation did Google agree to comply. The sting involved Fed-run rogue sites, who told Google that they were breaking US law. On each occasion Google accepted the business. The giant ad broker only escaped prosecution by agreeing to set aside $500m, its estimate of illegally-obtained profits. Google grosses around $30bn each year from Adwords auctions.
Do no evil, indeed.
But Google also profits from rogue music and movie sites, running what is arguably the largest of them all: YouTube. A controversial proposed US bill, SOPA, seeks the co-operation of service providers to de-list well-known sites from the web. Users could still find sites such as The Pirate Bay using alternative DNS systems or by passing on the IP address.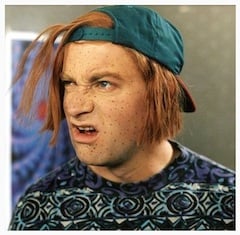 Kevin: "Nyah"
This might set a draconian precedent, critics argue. But supporters of the anti-piracy bill point out that Google already makes sites disappear at will. In July, Google made 11 million sites on .co.cc domains vanish, snaring the innocent along with what Google decided were the guilty - sites that were "spammy or low quality".
So there goes the "censorship" argument: Google already censors and makes up its own rules as it does so.
There most certainly are far, far more liberal alternatives to making websites disappear. Provided there's a consequence to an action, you can warn rather than block. Such "kitemark" or "traffic light" alternatives to web blocking are under consideration in the UK. Parliament granted reserve powers which could block websites in the Digital Economy Act last year, but ministers won't implement them and favour industry co-operation instead.
These, of course, require co-operation. Google and others who profit from piracy have found it far more rewarding to grandstand and cry Chicken Little. And all the while sites that rip off creators continue.
By nature, Google appears to prefer backroom lobbying and a network of activist groups to business innovation. Compare and contrast the fortunes with Apple, which never obstructed a congressional committee, funded an astroturf group or ever lobbied to weaken creator's digital rights – but which instead worked with Hollywood and the hated music business.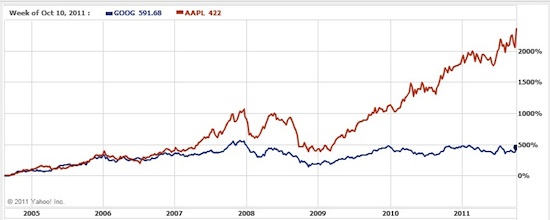 Which one would your money be on? ®