Long-delayed plans to equip American stealth bombers with super-heavy penetrator bombs – similar to those employed by British bombers against hardened Nazi targets in WWII – have finally been completed, offering the US a possibly timely option to destroy deeply buried nuclear weapons factories.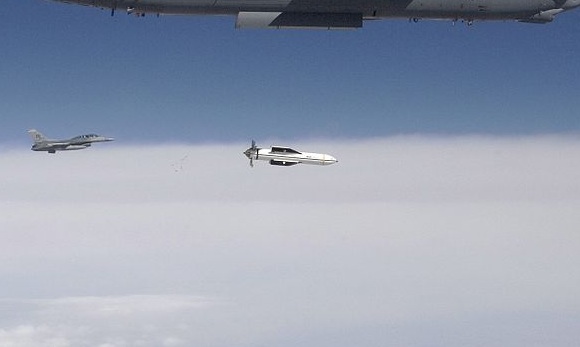 Bombs away makes bombs go away
Bloomberg reports on the news that integration of the Massive Ordnance Penetrator (MOP) onto the B-2 "Spirit" stealth bomber has finally been achieved. In fact the US airforce had revealed this at the end of September during a lengthy speech by a general, but nobody (except, perhaps, Iranian military intelligence) particularly noticed until now.
The MOP is a 14-tonne (15 short ton) pencil of heavy steel, containing a heavy explosive charge of 2.5 tonnes. Dropped from a B-2 cruising above 40,000 feet, it hurtles down to strike its target at supersonic speed, punching through many metres of hardened concrete or other overhead protection before exploding. It was specifically developed for the purpose of destroying WMD facilities at the behest of the US Defense Threat Reduction Agency (DTRA), tasked with keeping America safe from such things as foreign nukes.
Similar weapons were used by specially modified Lancaster heavy bombers during World War Two: the "Tallboy" and "Grand Slam" penetrator superbombs. These were dropped by the elite crews of 617 Squadron RAF – the special unit formed to carry out the Dambuster raids and other priority missions – on such targets as the heavily protected U-boat pens of the French Atlantic coast, or used to create "Earthquake" effects and so bring down bridges and viaducts impossible to knock out by normal bombing. An even heavier weapon, the colossal 20-tonne American T12, arrived too late for war service.
The main enhancements of the MOP compared to the 1940s weapons are that it is dropped from significantly higher up so that it hits with even greater force and can penetrate deeper, and it boasts precision guidance. This latter means that many fewer planes and MOPs should be required to knock out a target – which is just as well, as the entire US fleet of B-2s is scarcely the size of 617 Squadron.
There can't be a lot of doubt about the targets that the MOP is intended to hit, at any rate in the near term. Last week the UN reported that Iran is trying to build a nuclear weapon capable of striking Israel. It's generally accepted that cyberwarfare by unnamed actors has delayed the Iranian nuclear programme seriously in recent years – the effects of the Stuxnet worm in particular, it has been suggested, have been such as to lead to a certain relaxation regarding Iran in Western circles for a time – but concern in Israel is once again on the rise, despite recent reports of Duqu malware also wreaking havoc in Iran.
Any strike by Israel alone against Iran's nuclear facilities would have marginal chances of success and would require an air campaign of at least several days' duration. It's questionable whether the weapons available to Israel could have much effect against such targets as the deeply buried and concrete-capped uranium enrichment centrifuge chambers of Natanz, until lately the centrepiece of Iranian efforts.
However B-2s could nowadays – should President Obama give the order – lift off from their base in Missouri (the batwinged bombers have global range) and destroy Natanz with MOPs, almost certainly regardless of Iran's feeble air defences. Funnily enough it has been reported recently that Iran is moving some of its enrichment effort from Natanz to a newer subsurface site at Qom, tunnelled into the side of a mountain and protected by 90 metres of solid rock. Even MOPs might not be able to do much there, and one does note that the DTRA has lately expressed interest in building a robot mole-cruiser weapon of some sort, provisionally dubbed the Robotic Underground Munition.
However the MOP is surely a new piece on the game board, and with all sides playing for high stakes its appearance will surely have been noted in some Tel Aviv, Tehran and Washington circles with great interest.
The Bloomberg report is here. ®