Boffins have reconstructed how a 47-million-year-old moth fossil looked while alive: a psychedelically-coloured insect whose wings both camouflaged it and warned away predators.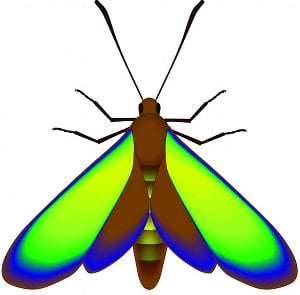 An artist's impression of the original colours
of the moth. Credit: McNamara, ME et al. PLoS Biology
The moth once had yellow, green, blue and brown colouring that helped it blend into leaves and grass when it was resting, but advertised its nasty taste and poisonous nature when the wings were spread.
Yale University palaeobiologist Maria McNamara and her team analysed the fossils of moths that had been preserved in the Messel oil shale in Germany and determined that tiny scales on their wings had once given off these iridescent colours, according to Nature.
The fossil's closest modern-day relatives are the forester moths that live in tropical areas of Eurasia and Australia, which have a metallic sheen to their wings and produce hydrogen cyanide.
McNamara said the reconstruction of the moths' colours let us know how they used to behave. The colours suggest that millions of years ago, some butterflies and moths had already developed the strategies seen today: camouflaging and the ability to produce poison.
However, she did warn that direct comparisons could be stretching the science a bit.
"Biology is unpredictable. The moths may have been doing what their relatives are doing today, or they may have been doing something totally different," she said.
The study was published in PLoS Biology. ®