Ubuntu has lost its "top dog" status on Hewlett-Packard's cloud.
The computer giant has told The Reg that, contrary to initial claims by Canonical, Ubuntu won't be the "lead host and guest operating system".
An HP spokesperson contacted us to say: "While it is true that they are the first host and guest operating system powering our private beta, this does not mean that HP would not accommodate other operating systems moving forward."
HP's man didn't say what those "other" operating systems might or would be.
HP claimed Ubuntu steward Canonical had "misrepresented the information".
A spokesperson for Canonical contacted by The Reg told us "nothing has changed".
"They are concerned that in our blog post we did not make it clear enough that there would be other technologies involved in the beta of their cloud," Canonical said.
Canonical posted the HP cloud news on 7 October, saying Ubuntu had been named "lead host and guest operating system" on HP's fledgling OpenStack-based cloud.
Canonical has now changed the wording on that blog, here, but you can still read the original text below. The wording in the original was definitive: Ubuntu was the lead host and guest operating system and it would power the public OpenStack cloud; the only mention of beta came when the blog said Canonical and HP had been working closely together on the private beta.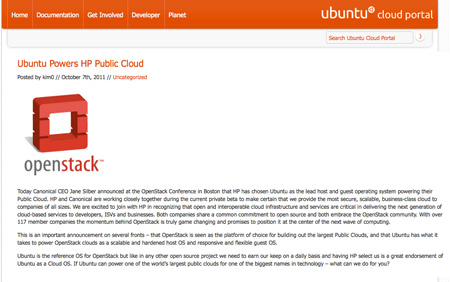 First among equals: Canonical's unaltered Ubuntu-cloud post
At this stage, it is unclear which other technologies or operating systems are being used – or will be used – in HP's cloud for all seasons. So far, we know it uses OpenStack and runs Ubuntu.
HP is, however, Microsoft's largest partner on Windows, while in July 2010 it was named by Microsoft as an early adopter of the company's Windows Azure – along with Dell, Fujitsu and eBay – here (warning: PDF).
A set of "limited production release" Azure cloud appliances running on hardware from HP, Dell and Fujitsu were promised by Microsoft.
The Windows Azure platform appliance was due "late in 2010" and would combine Windows Azure and Microsoft SQL Azure with Microsoft-specified hardware. HP and others would not just build and test appliances but also become cloud service providers.
To date, only Fujitsu has delivered appliances. And while HP's Azure-powered cloud has yet to float above Palo Alto, HP has become an enthusiastic backer of the OpenStack project building a Linux for the clouds along with Canonical, Microsoft and many others. ®
Similar topics